Princess Caroline of Monaco loses press privacy fight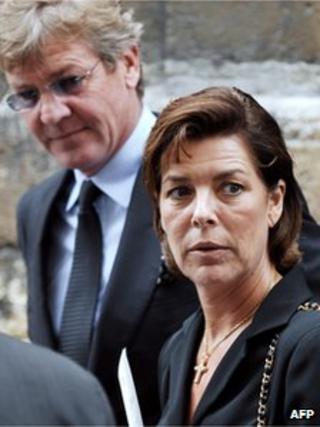 The European Court of Human Rights has rejected a complaint by Princess Caroline of Monaco, in a ruling backing media rights on celebrity reporting.
The princess and her husband argued that a photo of the couple on holiday while her father, Prince Rainier, was ill violated their privacy.
They took the case to Strasbourg after German courts rejected their argument.
But the human rights courtupheld the German decision, in a ruling that could affect privacy laws across Europe.
While the Strasbourg court backed the German courts over the Princess Caroline case, it rejected another German legal ruling that the privacy of a TV actor was more important than the public interest in his case.
The unnamed actor was the subject of two newspaper stories in Bild Zeitung in 2004 and 2005 after he was arrested in a Munich beer tent for possessing cocaine.
A Hamburg court had granted the actor's request for an injunction and ordered Bild's publisher to pay a penalty.
In a victory for the publisher, Axel Springer AG, the human rights court said that the paper "had not revealed details about the actor's private life" and "contained no disparaging expression or unsubstantiated allegation". It added that the sanctions imposed on the publisher were "capable of having a chilling effect on the company".
In a majority verdict, the European Court of Human Rights (ECHR) decided the Hamburg injunction breached the newspaper's right to freedom of expression under the Human Rights Convention.
Paparazzi 'intrusion'
The ECHR judges said that Princess Caroline and her husband had tried to prevent photos of her private life being published for many years.
After the publication in two German magazines of photos between 2002 and 2004, Germany's Federal Court of Justice decided to ban the use of two pictures.
But it said a photo in 2002 in Frau im Spiegel magazine of Princess Caroline and Prince Ernst August of Hanover taking a walk in St Moritz as part of an article on the poor health of Prince Rainier of Monaco was a subject of general interest.
Upholding the German court's decision, the ECHR said the publishing companies' freedom of expression had been "carefully balanced... against the right of the applicants to respect for their private life".
The princess's lawyer Mattias Prinz said that such photos amounted to "permanent intrusion by the paparazzi" into the couple's lives.