Romania resignation: Your comments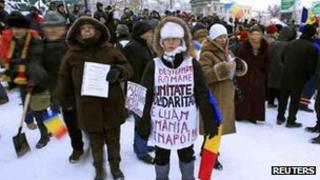 The Romanian President, Traian Basescu, has appointed the country's security chief, Mihai Razvan Ungureanu as prime minister.
He replaces Emil Bloc who resigned after weeks of protests against austerity measures and corruption.
Mr Boc, a conservative, said he wanted to defuse political and social tension in the country.
BBC News website readers have been getting in touch with their views.
Anti-resignation
It was a huge mistake. The real number of Romanians who hate Boc is actually very low, but the media has rallied many naive people against his government using cheap populism. It's too bad, many of us have forgotten the misery and corruption PSD brought upon this country a few years ago. Christian, Bucharest
Mr. Emil Boc should be respected for the hard decisions and measures he took as PM in the last 3 years, which resulted in a relative macroeconomic stability for the country. Indeed, the communication with the people was not as efficient, and many considered the measures as failures of the Government on the expense of the majority, while the oligarchs triumphed. Romania owes its current stability to Mr. Boc. Razvan, Bucharest
Making this change so close to the elections date is just a waste of public funds and time, instead of focusing on improving the life standards and sustaining the economical growth from last year. Bogdan, Craiova
Pro-resignation
This needs to be done, we've been subjugated by the IMF ever since Romania qualified for the EU. The IMF is giving out loans and our leaders are falling for it. Why should I, or my children, and their children and nephews pay the money that Basescu needs ? He did not evaluate other options, he immediately saw that there's a money source that he can grab and took the opportunity. Sarbu, Bucharest
Nothing will change
Nothing will change, the real PM will be the same Basescu - the president. Basescu always nominated persons who can be manipulated by him. The protests weren't against austerity or against Boc, protests were mainly against Basescu. That's the reason there will be no change, because to change a puppet with another puppet is no change at all. Daniel, Bucharest
This resignation doesn't solve any of our problems. What everybody wanted was also the resignation of the president Basescu, together with his slave, Mr Boc. Ioana, Brasov
The un-elected communist government was replaced by a largely un-elected 'democratic' government. If you don't vote, you will find that you probably have. You don't become an MP unless someone says you can. Someone leaves, another faceless person stands in - same result, a hand in the pocket of you and the country. Vlad, Bucharest