Germany's Angela Merkel vows support for Sarkozy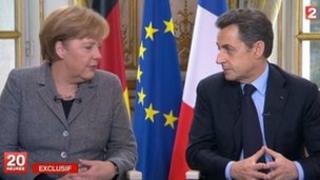 German Chancellor Angela Merkel has pledged her support for President Nicolas Sarkozy's re-election bid, 80 days before French voters go to the polls.
In a joint TV interview, Mrs Merkel said it was "natural" to back a fellow conservative.
Mr Sarkozy said he was pleased to receive her endorsement.
He is yet to confirm he will stand in April, and is behind the Socialist Francois Hollande in the polls.
The German chancellor has pointed out that Mr Hollande had himself appeared at the German opposition SPD's party congress.
'Same political family'
In the interview, Mrs Merkel said the two leaders had a strong personal relationship and had worked in a "friendly atmosphere" during the eurozone crisis.
"We belong to the same political family. He supported me and it is natural that I support him in his campaign," she said.
Mr Sarkozy responded: "The French people will decide themselves, like Germans decide, freely. When someone for whom you have affection and whom you admire says 'I support your actions', that pleases me."
But correspondents say Mrs Merkel's commitment has raised many eyebrows in France, where there is some resentment about Germany's leading role in the eurozone.
Earlier the two leaders held a joint cabinet meeting, at the Elysee Palace, focused on the debt crisis as well as plans to co-ordinate the two countries' corporate tax policies.
Nine French ministers and eight German ministers were involved.
President Sarkozy told a news conference that Greece's new leaders should "live up to their responsibilities" and back an austerity package drawn up as a condition for Athens to be handed a second EU and IMF bailout and avoid defaulting on its debts.
"We want this accord," he said. "Time is running out, it needs to be concluded, it needs to be signed."
He spoke warmly of Germany's "friendly co-operation" with France over the eurozone debt crisis.
Since they last met, France has seen its AAA credit rating reduced by Standard and Poor's.
French commentators are comparing the joint televised interview, broadcast by France 2 TV and German broadcaster ZDF at 2000 local time (1900 GMT), with a programme involving Mr Sarkozy and US President Barack Obama in November 2011 at the end of the G20 summit in Cannes.
At the time Mr Obama maintained that he and the French president had "an excellent" working relationship.