Conservative Sauli Niinisto wins Finland presidency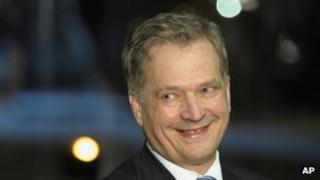 Conservative former Finance Minister Sauli Niinisto has won presidential elections in Finland.
Mr Niinisto secured 63% of the vote in Sunday's run-off poll, easily beating his Green rival Pekka Haavisto (37%), according to official results.
"This has been a very good... campaign. I'm happy about it," Mr Niinisto said.
The 63-year-old pro-European politician will take over from President Tarja Halonen in March, becoming the nation's first conservative head since 1956.
In his victory speech, he pledged to be "the president of the whole nation".
Although Finland's president is seen as above daily politics, the role is considered important in shaping public opinion and performing as a figurehead abroad. The president is also commander-in-chief of the defence forces.
Mr Niinisto won the first round of the election last month, but failed to secure the majority required to avoid the run-off.
He served as the Nordic nation's finance minister from 1996 to 2003, overseeing the country's adoption of the euro in 2002.
Finland contracted sharply in the global recession, but has since emerged as one of the eurozone's most dynamic economies.