Heinrich Boere: Reporters cleared over Nazi interview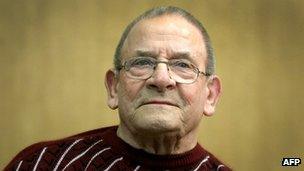 Two Dutch journalists who secretly filmed an elderly German man as they confronted him about his Nazi past have been acquitted of breaching Germany's privacy laws.
Heinrich Boere, now 90, has since been convicted of shooting civilians in the Nazi-occupied Netherlands in 1944.
He started a life sentence for the murders in December.
The journalists, who filmed Boere in an old people's home, said the verdict was a victory for press freedom.
The two reporters, who were working for Dutch current affairs programme Een Vandaag, would have faced up to three years in jail had they been convicted by the German court.
Jelle Visser, one of the journalists, said that he thought their use of a hidden camera had been justified.
"We thought it was a much bigger story that Heinrich Boere lived 60 years quietly after killing people than what we did," he told AFP.
Boere volunteered to join the Waffen SS aged 18 after the Nazis invaded his home town of Maastricht in 1940. He had a Dutch father and a German mother.
During his trial in Aachen two years ago, he admitted carrying out the killings, but said he had been acting on orders from his superiors.
He shot dead Fritz Bicknese, a chemist and father of 12 children; Frans Kusters, a Dutch resistance member who owned a bicycle shop; and Teun de Groot, who helped Jews go into hiding.
Boere argued that he risked being sent to a concentration camp if he refused to carry out the shootings.
He had confessed to the killings to the Dutch authorities when he was in captivity after World War II, but managed to escape from a prisoner of war camp and fled to Germany.
A Dutch extradition request in the 1980s was turned down by the West German government, after a court ruled that there was a possibility Boere had German citizenship. Germany does not extradite its own citizens to face trial abroad.
Related Internet Links
The BBC is not responsible for the content of external sites.