Europe freeze hits transport hubs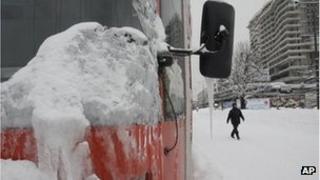 Freezing weather has hit transport hubs across Europe, closing airports, blocking roads and halting trains.
Transport hubs in Central and Eastern Europe have been forced to close amid the biggest freeze in decades, which has claimed more than 200 lives.
Dozens of flights were delayed at Amsterdam's Schiphol and London's Heathrow cancelled 30% of flights.
Ukraine has been hardest hit, with at least 122 deaths over the past week, most of them homeless people.
Hundreds of heated tents have been set up around the country to provide food, drink and shelter as the country suffered temperatures as low as -38C.
Poland has lost at least 45 people in temperatures as low as -27C, while Romania's death toll has reached 28.
The cold snap has also killed people in Bosnia, Latvia, Lithuania, Estonia, Bulgaria, the Czech Republic, Italy, Slovakia, France, Austria and Greece, the AFP news agency reports.
The Italian capital Rome saw its heaviest snowfall in more than 25 years, which brought transport to a standstill and left some motorists stranded for hours.
Some canals in Venice have begun to freeze over.
Bosnian officials have declared a state of emergency in the capital Sarajevo, where snow has paralysed the city.
Fist fights between shoppers desperate to stock up on dwindling food supplies were reported.
Heavy snowfall has cut off whole communities in Montenegro, Serbia and Croatia.
Russian gas supplier Gazprom has warned it is unable to meet Europe's spike in demand as it battles its own problems with the cold weather.
Supplies have been reduced "for a few days" before returning to normal levels, Reuters news agency reports.
As the freezing weather moves westwards, most of the UK was hit by snow overnight on Saturday.
Up to 16cm (6in) of snow fell in some parts of the country, bring chaos to roads, rail lines and airports.
The Netherlands marked temperatures of -21.8C in the town of Lelystad on Saturday, the lowest recorded in the country for 27 years.
Motorist associations reported hundreds of miles of traffic jams across Belgium and the Netherlands as the first snow fell on Friday.