Ukraine cold snap: Homeless dying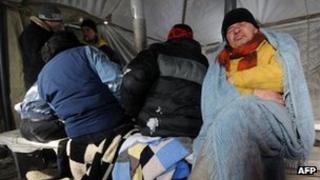 Fatalities continue to climb in Ukraine from the extreme cold temperatures, with the country's emergencies ministry announcing on Friday that another 38 people had died.
As temperatures plunged to below -30C (-22F) on Thursday night, the total number of victims over the past week reached 101 - the majority being homeless people living on the streets.
Ukrainian officials have scrambled to cope with conditions which, while not entirely unfamiliar in this former Soviet republic, seem to have stretched government resources to the limit.
Two years ago a cold snap killed 47 people.
This time, as temperatures plummeted across the country, the emergency ministry opened about 3,000 "heating shelters" - military-style tents made of heavy canvas and with wooden floors - where the homeless could find refuge.
Inside, they are provided with a warm space to sleep, and hot meals and drinks.
Though the conditions are Spartan, they are nonetheless greatly appreciated.
"Where else can we sleep?" asks Alex, 23, who was kicked out of a rented room when he lost his job.
"If you sleep in underpasses or stairwells, it's only a little bit warmer than on the street."
Alex - a thin man with hooded eyes, who is gregarious despite the circumstances - says that he visits an employment centre every day. So far, however, he has not found work.
"Around 800 people show up every day for just a few spots," he explains, his face poking out of his hooded sweatshirt.
The three other tent dwellers nod in agreement. One gentleman in his late 50s was wearing white sports socks and sandals.
Though the government's efforts seem to be in the right direction, one wonders if they adequate to deal with the scale of the problem.
Kiev officials have erected only 10 shelters for a homeless population that is listed as 12,000 - though this figure may be much higher.
And the tents are not always located in places where they can provide the most assistance. One tent was hidden away in a secluded park 20 minutes from the nearest metro station, amid pine trees on a snow-packed service road.
The occupants there said that they found the shelter only after numerous enquiries.
Though the arctic cold of the past week may be easing up, temperatures are predicted to remain well below freezing until mid-February.
Officials say that already some 1,600 people have been treated for hypothermia and frostbite, and this figure continues to rise.
'Economic misdirection'
And as the cold persists, so do fears for those in need. Of the 101 who have died so far, 11 were in hospital, 26 at home and 64 were on the street.
Some analysts blame the high number of deaths among the homeless on what they regard as President Viktor Yanukovych's misguided economic policies.
"Yanukovych's government has neglected his social obligations," said Serhiy Taran, director of the International Democracy Institute, a Kiev think tank.
"The divide between rich and poor in Ukraine is one of Europe's largest."
"The reason that so many homeless are dying is simply because we have more poor people living on the streets."