UN court rules against Italy over WWII compensation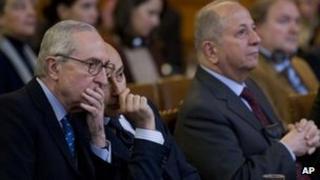 The UN's highest court has ruled that Italy was wrong to allow its courts to make claims for compensation against Germany for Nazi war crimes.
The International Court of Justice's ruling confirms that Germany has legal immunity from being sued in foreign courts by victims of such crimes.
Germany has paid tens of billions of dollars in reparations since the 1950s.
It appealed to the UN court in 2008 after Italy's supreme court backed a claim by a former slave labourer.
ICJ judge Hisashi Owada read out the verdict at the court's headquarters in The Hague.
It found that the Italian supreme court had violated Germany's sovereignty in 2008 by judging that Italian civilian Luigi Ferrini was entitled to reparations for his deportation to Germany in 1944 to work as a slave labourer in the armaments industry.
The ICJ is the UN's highest judicial organ and settles disputes between states.
Its rulings are final and binding on states.
Wave of claims
Mr Ferrini made his claim for compensation from Germany in 1998 and in 2004 the Italian supreme court decided in his favour.
A wave of compensation claims ensued and as of September last year, there were 80 cases pending with 500 plaintiffs, German lawyers told the ICJ.
Greece was also drawn into the dispute after relatives of Greek victims of a massacre in 1944 refiled a case before Italian courts.
Germany had previously refused to pay compensation to the Greek claimants.
Last year, German lawyers argued that the "consequences would be severe" if Italian courts were allowed to continue hearing such claims.
Germany said it could put "all interstate peace settlements in jeopardy by allowing domestic courts to re-examine and reopen them", allowing plaintiffs to "shop around for the most favourable courts".
Italy argued for its part that such claims were admissible as the abuses committed by German troops amounted to "international crimes" which had precedence over state immunity.