Euro MPs back call for sports shirts to feature EU flag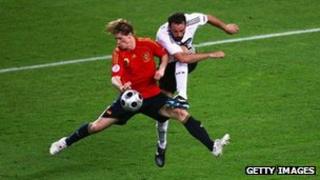 The European Parliament has voted to back a call for national sports teams to wear the EU flag on their shirts.
It also endorsed a plan for the EU flag to be flown at major international sporting events in Europe, but neither of the measures would be compulsory.
Both ideas are contained in a report that also urges action against doping, hooliganism, match-fixing and shady deals by players' agents.
The recommendations will now be considered by the European Commission.
The vote was passed by 550 votes to 73, with seven abstentions.
British Conservative MEPs voiced concern that the new measures might offend loyal fans and interfere with professional sport.
'Artificial European identity'
Emma McClarkin, the party's spokesperson on sport and culture in the European Parliament, said the EU flag proposal was "outrageous and unnecessary".
"Sport has a special place in my country, and our national teams form a key part of our identities and heritage," she told the parliament.
"The EU cannot impose an artificial European identity on us by forcing our athletes to wear its emblem."
The party objected when Speaker Martin Schulz refused to allow MEPs to vote on individual clauses in the report "in the interests of efficiency".
Irish Fianna Fail MEP Liam Aylward said the dispute over the EU flag should not overshadow the report's other provisions.
He commended the report as a "strong framework to create a European sports policy that is based on social inclusion and enhancing sport in Europe".