Bank says Irish recession to persist in 2012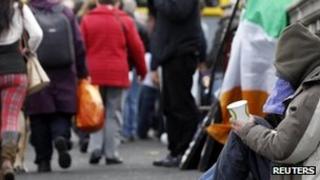 Ireland's Central Bank has said the country's domestic economy will remain in recession through 2012.
It has forecast that gross national product (GNP), which excludes multinationals, will shrink by 0.7%.
The bank also slashed the growth prediction for the country's gross domestic product (GDP) which includes multinationals.
The bank thinks it will grow by 0.5%, not 1.8% as previously predicted, due to weaker international demand.
It warned that the depth and duration of the current global economic weakness will be central to the prospects for the Irish economy in the short term.
It said that the performance of Irish exports last year followed worldwide trends with a relatively strong performance in the first quarter, followed by a slowdown in the rest of the year.
Weakness
The bank said that a slowdown in export growth is also likely this year, reflecting the weaker near-term outlook for growth in the country's main trading partners.
It added that a pick-up in export growth in 2013 is possible if the projected recovery in world demand materialises.
It also said that exports will continue to contribute to overall GDP growth, which will offset the continued weakness of domestic demand.
Irish people are facing a raft of new taxes and charges, which on top of huge levels of personal debt, are depressing consumer spending and business investment.
Despite the significant reduction to growth forecasts, the bank still believes the government will hit its 8.6% target of deficit of GDP.
The bank also says that wages may no longer be declining but will probably remain flat over the next two years while they rise by 1.8% in the Euro area
Ireland is going through a so-called "internal devaluation" which means it is cutting labour and service costs in a bid to make the country more internationally competitive.