Poland Nobel poetry laureate Wislawa Szymborska dies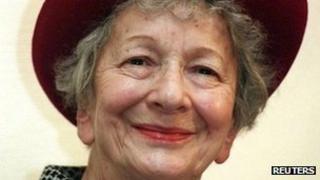 Polish poet Wislawa Szymborska has died of lung cancer at the age of 88.
Ms Szymborska, who won the Nobel Prize for Literature in 1996, passed away in her sleep at her home in Krakow.
The Nobel Committee said that her award had been "for poetry that with ironic precision allows the historical and biological context to come to light in fragments of human reality".
Polish President Bronislaw Komorowski said in a statement that Ms Szymborska was our "guardian spirit".
"In her poems we could find brilliant advice which made the world easier to understand," Mr Komorowski added, quoted by Associated Press news agency.
As long as her condition allowed, Ms Szymborska was working on new poems, but she had not had time to arrange them for a new book as she had intended, her private secretary Michal Rusinek said on Polish television, according to AP.
The book will be published later this year, Mr Rusinek added.
Born in 1923 in Bnin in western Poland, Ms Szymborska made her literary debut in 1945 with the poem "Szukam slowa" ("I am Looking for a Word") in a Polish daily newspaper.
She was the author of over a dozen collections of poetry and had also translated the works of others from French.