Austria's President Fischer intervenes in far-right row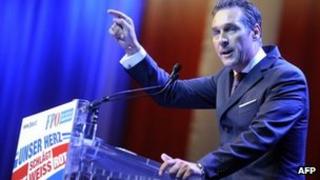 Austrian President Heinz Fischer has withdrawn an award from a far-right leader who allegedly likened his supporters to Jews under the Nazis.
Freedom Party leader Heinz-Christian Strache was said to have made the remarks after protesters picketed a controversial far-right Vienna ball.
The event was widely criticised as it was held on Holocaust Remembrance Day.
Foreign Minister Michael Spindelegger told reporters that he was "profoundly disgusted" by Mr Strache's words.
'Monstrous provocation'
Although far-right organisers insisted the Wiener Korporationsring (WKR) ball was always held on the last Friday in January, Green Party head Eva Glavischnig said that guests would be "dancing on the graves of Auschwitz".
An estimated 2,500 protesters gathered on Friday night to condemn the ball and several arrests were made.
"We are the new Jews," Mr Strache was quoted as telling other guests by Austrian newspaper Der Standard on Monday, as some complained their taxi had been stopped by protesters.
"That was like the Night of Broken Glass," he was reported to have said, referring to the violent pogrom against Jewish businesses and homes in Nazi Germany and Austria on 9-10 November 1938.
The Jewish community described his words as a "monstrous provocation".
President Fischer had been due to give Mr Strache a state honour in recognition of the time he had served in parliament and the Vienna assembly. But in light of the comments he announced the award would not take place.
Speaking later, the Freedom Party leader did not deny making the remarks but said his words had been "intentionally misrepresented" and that "things [had been] taken entirely out of context".
Saying that a ball and the Nazi persecution of the Jews could not be compared, Mr Spindelegger urged Mr Strache to apologise immediately.