EU summit: Czech government split over pact rejection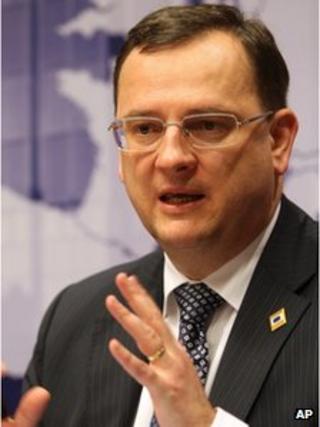 The Czech prime minister's decision to join the UK in refusing to back an EU fiscal pact has prompted an angry response from coalition colleagues.
Petr Necas said that questions still remained over the deal, approved by the EU's 25 other member states.
But Foreign Minister Karel Schwarzenberg accused him of harming the Czech national interest.
UK PM David Cameron has ruled out signing the pact but has agreed not to stop EU institutions enforcing it.
The aim of the treaty is much closer co-ordination of budget policy across the EU to prevent excessive debts accumulating.
The treaty will empower the European Court of Justice to monitor compliance and impose fines on rule-breakers.
When he initially imposed his veto last month, Mr Cameron argued that the European Court of Justice and European Commission should be involved only in agreements made by all 27 member states.
He said on Monday he still had "legal concerns" about the use of the institutions and added that "we'll be watching like a hawk" to ensure no measures would be taken to "undermine the EU single market".
His apparent change of heart has prompted some figures on the eurosceptic wing of his Conservative party to accuse him of appeasing their more pro-European coalition partner, the Liberal Democrats.
At the last EU summit in December, the UK stood out as the only EU country not to give its initial support for the deal, due to be signed in March.
Czech objections
Although other non-eurozone states, including Poland, had reservations about some of the terms of the pact, in the end only the Czechs refused to give their backing at Monday's summit.
The Czech Republic is not yet in the euro, but like the other new EU member states it is committed to joining.
Poland insisted that non-eurozone countries should have the right to take part in summits involving the 17 states that use the euro. PM Donald Tusk accepted a compromise that allowed their participation in at least one summit per year.
But, in a statement, Czech PM Petr Necas said he could not accept the deal "because of its content and also because of a lack of clarity regarding its ratification and the effective date".
However he added that changes made to the pact were "extremely valuable" and he held out the prospect of the Czech Republic joining in the future.
Mr Necas is supported by his Civic Democrat party colleague and eurosceptic Czech President Vaclav Klaus.
His stance was criticised by Foreign Minister Karel Schwarzenberg, leader of junior coalition partner Top 09, who complained that "state interests were harmed", according to CTK news agency.