Court in Spain refuses to drop case against Garzon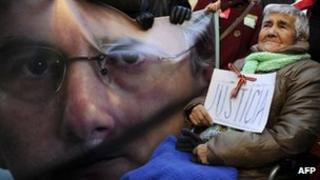 The supreme court in Spain has refused a request to throw out a case against Judge Baltasar Garzon, accused of overstepping his authority.
Spain's most famous judge is testifying at his own trial for ordering an inquiry into mass killings by forces loyal to former dictator Gen Franco.
Baltasar Garzon is accused by two groups of violating a 1977 amnesty and reopening war wounds.
In court, he argued no amnesty could cover crimes against humanity.
Fascist leader Gen Francisco Franco ruled Spain from 1939, the end of the civil war, until his death in 1975.
Thousands of people demonstrated in Madrid in support of Baltasar Garzon on Sunday.
Politicians, prominent artists, union groups and actors joined the crowd which brandished placards saying "Garzon, friend, the people are with you" and "We demand justice".
Two organisations - Cleans Hands and Liberty and Identity - opened a civil case against Judge Garzon, who is best known outside Spain for securing the arrest of former Chilean leader Augusto Pinochet in London in 1998.
The judge also faces two other court cases on charges of dropping an investigation into the head of Spain's biggest bank, Santander, and illegally authorising police to record conversations between lawyers and clients.
If convicted at any of the trials, he could be suspended from the legal profession for up to 20 years, in effect ending his career.
Robes off
Removing his judge's robes, Mr Garzon sat behind a small table in the main chamber of the supreme court to deliver his testimony in front of seven judges.
A majority of the judges ruled that the arguments put forward for dropping the case lacked "sufficient material weight".
They heard Mr Garzon defend his decision to investigate killings from the Franco years, insisting he was not motivated by politics.
"It is not a question of ideologies,'' he said. "Here, there were hundreds and hundreds of thousands of victims whose rights have not been addressed."
He argued that the killings and disappearances of civilians at the hands of Franco supporters had been systematic and thus a crime against humanity, and that his inquiry was justified.
"I did what I thought I had to do,'' he said.
Judge Garzon also rejected the argument that disappearances were covered by Spain's statute of limitations.
"Their effects go on in time,'' he said, because no bodies had been found and relatives were thus denied the right to give their loved ones a proper burial.
Remains exhumed
Tuesday was the only day the judge was scheduled to give testimony in court.
He declined to take questions from the two groups which brought the charges against him.
The court will now hear from people the defence describes as victims of Franco-era crimes, and from human rights experts.
Mr Garzon's court appearance comes as archaeologists investigate the site of a mass Civil War grave at a cemetery in the south-western town of Gerena.
Remains of 17 people, all women, were found dumped together.
They are believed to have been rounded up and shot by Franco's forces in 1937 for being relatives of people on the opposing Republican side.