Dutch unease over cigarette lobbying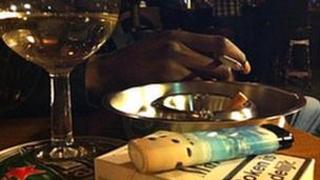 How close is too close when it comes to conversations between governments and the tobacco industry?
In the Netherlands, politicians are being accused of allowing the powerful tobacco lobby to exercise undue influence over smoking policy.
In recent years while most countries have been tightening anti-smoking legislation, the Netherlands has partially reversed some of its laws - allowing people to smoke in some bars again and cutting funding for anti-smoking organisations.
Now there are allegations that this could be due to improper links between the politicians and the tobacco industry, and experts are warning it could have a potentially deadly impact on the nation's health.
'Saved business'
Three years ago, like many others across Europe, the Dutch government outlawed smoking in bars.
But over the past six months, under pressure from licence holders, ministers in the Netherlands have been rolling back the restrictions. Now, small bars with just the owner working are allowed to let customers have a cigarette with their beer.
One bar manager, who wishes to remain anonymous, told us the government's change of policy probably saved her business.
"When the ban came in people didn't come here anymore but now it's OK and look: most people in here are smoking. Maybe it's bad to smoke, but people should be allowed to do what they want."
Politicians defend their policy changes on the grounds of personal freedom.
Anne Mulder is a member of the ruling VVD party in the Dutch Parliament and involved in designing the Dutch health policy.
"Oh I know a lot of people in the anti-smoking lobby hate me but I am a liberal and as a liberal I believe people should be free to choose if they want to smoke or not."
The World Health Organisation's international tobacco control treaty bans any communication that might allow the tobacco industry to influence government policy.
But Mr Mulder admits the health department does hold meetings with the tobacco lobby.
"It's a legal product, I think it's right I speak to everyone and that's what I'm doing. I don't have any problem speaking to the lobbyists. If you want to make policy you have to speak to people on all sides then make your own decision."
'Illogical'
It's an argument that Professor Onno van Schayck from the University of Maastricht completely rejects.
"If you want to control malaria you don't invite the mosquitoes to negotiate with you on these issues. This is so illogical. It is absolutely irresponsible what they're doing, it's not a health policy not at all."
While it is getting easier for smokers to find a bars that won't turf them outside for a cigarette, government cutbacks are making it harder than ever for those who are trying to help them quit.
Researchers predict that without tougher anti-smoking policies and more help for those who want to give up over the next 30 years, almost a million people in the Netherlands will die prematurely due to tobacco-related diseases.
But the economic crisis is forcing the government to implement cross departmental budget cuts.
The Stiviro smoking cessation clinic in The Hague has had its government funding cut completely.
"People are on their own, that's the message the government is giving out," says Dr Savitri Ritoe, who runs the clinic.
"It's fine to say people should be free to choose but if you're addicted you're not free and you can't choose to stop because you have a disease and that's why they need help."
Inside the industry
Bergen Op Zoom is a small town on the Dutch west coast. It's home to one of the biggest Philip Morris factories in the world.
My taxi driver tells me its presence is crucial to the local economy.
"Every family who lives here has someone who works at Philip Morris. In my family there are three."
The sprawling plant employs 1,400 workers.
At reception stands a colourful arrangement of cigarette boxes displaying the company's most successful brands. It reminds me of a proud peacock showing off its magnificent tail feathers.
Inside, on the factory floor, the machines are buzzing. Everywhere you look cigarettes are being processed and packaged. Last year, Dutch smokers spent more than 4bn euros on tobacco products.
Mathijs Peters, a lobbyist for Philip Morris, says 80bn cigarettes were produced in the factory last year.
"We do share our views with the government on legislation that affects our company.
"Regulation should be effective when it comes to reducing the harm caused by our products but at the same time it should allow us to compete for adult share of the market.
"In some areas we would actually like the government to do more. At the moment the minimum age is 16 but we know that is not strictly enforced."
Tobacco is big business in the Netherlands. Every year the industry provides around 2.4bn euros to the Dutch economy; roughly half of that comes from Philip Morris.
The Dutch government denies this financial clout is allowing the tobacco industry to exercise any power over policy.
Nevertheless, as the anti-smoking cutbacks continue so will the cynicism, concern and calls for the ministers to demonstrate that they are acting with people's health interests at heart.