Deaths in Ukraine and Poland in freezing Europe weather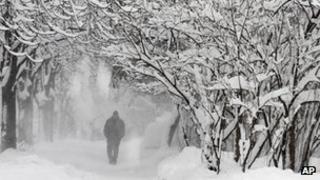 At least 30 people have died in Ukraine and 10 in Poland after heavy snow fall and a drop in temperatures across much of central and eastern Europe.
Three deaths were also reported in Serbia and one in Bulgaria.
Ukrainian health officials said more than 600 people had sought treatment for frostbite and hypothermia in just three days.
And over that time, nearly 24,000 people sought refuge in some 1,590 shelters, the officials say.
Temperatures have plunged to -16C (3F) during the day and -23C (-10F) at night.
Many of the dead were homeless people, whose bodies were discovered on the streets, Ukraine's Emergency Situations Ministry said.
Poland had been having a relatively mild winter, until temperatures dropped last Friday from just below freezing to -26C (-15F).
Malgorzata Wozniak of Poland's interior ministry told the Associated Press that elderly people and the homeless were among the dead.
Polish forecasters have warned that temperatures could fall further during the week, to below -20C during the day and -30C at night.
In Serbia, police reported that the snowy conditions had led to the deaths of a woman and two elderly men. Two other men, in their 70s, are believed to be missing in the south of the country.
The freezing conditions also claimed a life in neighbouring Bulgaria.
Emergency shelters offering food and heat are being set up in the Bulgarian capital Sofia and the Czech capital Prague, reports say.