'Far-right' Vienna ball condemned on Holocaust Day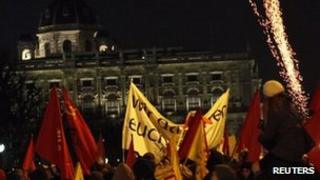 Protesters in Austria marking Holocaust Remembrance Day have condemned organisers of a ball which was expected to be attended by far-right leaders.
Greens' Party head Eva Glavischnig said guests at Vienna's WKR event would be "dancing on the graves of Auschwitz" - a reference to the Nazi death camp.
But the organisers rejected the accusations, saying the ball was always held on the last Friday in January.
French National Front leader Marine Le Pen was to be among the guests.
Belgium's Philip Claeys of the Vlaams Belang party and other Europe's far-right politicians were also thought to be at the ball at Vienna's imperial Hofburg palace.
'We remind you'
"It is all the more regrettable and perfidious that today of all days, people will dance on the graves of Auschwitz," Ms Glawischnig said at a Holocaust commemoration ceremony in the Austrian capital.
The ceremony was held at Vienna's Heldenplatz, just a few hundred metres from the Hofburg.
"You, who will dance and celebrate here: we remind you of the murder of two-thirds of Europe's Jews," said Holocaust survivor Rudolf Gelbard.
Other protesters shouted, "Nazis out!"
Austrian police said it expected more demonstrators to join the protest outside the palace.
The WKR ball is traditionally organised by student fraternities, which include far-right members from across Europe. The event is part of Vienna's famous ball season.
Commemorative ceremonies are being held around the world on Friday to mark the 67th anniversary of the liberation of Nazi's Auschwitz-Birkenau camp in Poland.
It is estimated that more than one million people - mostly Jews - were killed at the Nazi death camp.
Large numbers of non-Jewish Poles, Roma, Soviet prisoners of war and homosexuals were also murdered.