Norway apologises for deporting Jews during Holocaust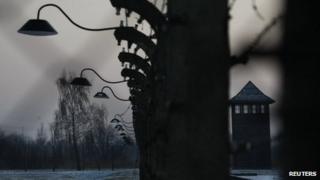 The Norwegian prime minister has apologised for the role his country played in deporting its own Jews as Europe marks Holocaust Remembrance Day.
"Norwegians carried out the arrests, Norwegians drove the trucks and it happened in Norway," Jens Stoltenberg said in a speech.
It is believed to be the first time a Norwegian leader has been so explicit about collusion under Nazi occupation.
More than a third of Norway's 2,100 Jews were deported to death camps.
Others fled to neighbouring Sweden, which remained neutral during World War II.
Norway acknowledged its role in the Holocaust in 1998 and paid some $60m (£38m) to Norwegian Jews and Jewish organisations in compensation for property seized.
However, the payout fell short of a full apology.
'Time to acknowledge'
Mr Stoltenberg delivered his speech at the dock in the capital Oslo where 532 Jews boarded the cargo ship Donau on 26 November 1942, bound for Nazi camps.
"Today I feel it is fitting for me to express our deepest apologies that this could happen on Norwegian soil," he said in the speech, translated into English on the prime minister's website .
"It is time for us to acknowledge that Norwegian policemen, civil servants and other Norwegians took part in the arrest and deportation of Jews."
He added that he was sorry to see that the "ideas that led to the Holocaust [were] still very much alive today".
"All over the world we see that individuals and groups are spreading intolerance and fear," he said.
Paul Levine, a history professor at Uppsala University in Sweden, likened Norway's role during the war to that of the Vichy regime in Nazi-occupied France.
"They implemented their own anti-Jewish laws, used their own manpower, confiscated property and discriminated against Jews before the Germans had demanded it," he told Reuters news agency.
"Norway didn't have to do what it did."
The Holocaust, during which some six million Jews were murdered, is commemorated on the anniversary of the liberation of Auschwitz by Soviet troops.
In other news related to Holocaust Remembrance Day:
Austria's Green Party leader, Eva Glavischnig, suggested attendees at a Vienna ball on Friday evening which traditionally attracts the far right would be "dancing on the graves of Auschwitz"
A public TV channel in Turkey began broadcasting the epic 1985 documentary Shoah - the first mainly Muslim state ever to do so - in what its director Claude Lanzmann, 87, called a "historic event"
Auschwitz survivor Kazimierz Smolen, 91, who went on to become director of the memorial at the site, died in the neighbouring Polish town of Oswiecim
German parliamentary Norbert Lammert told a memorial ceremony in Berlin that he was concerned about lack of awareness of the Nazi genocide among young people
Flowers were laid at the Sachsenhausen Nazi death camp site in Oranienburg, Germany, where some 10,000 Soviet prisoners-of-war were shot by the Nazis