EU Parliament speaker Schulz warns Hungary's Orban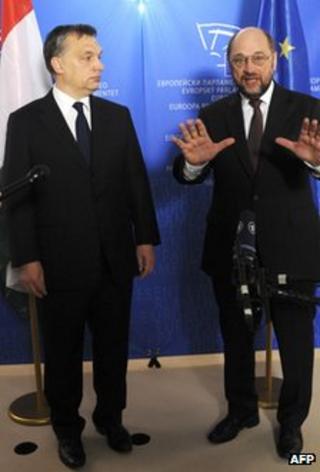 The speaker of the European Parliament, Martin Schulz, has told Hungarian Prime Minister Viktor Orban he should not think EU leaders "are stupid".
Mr Orban was in Brussels to meet top EU officials in a bid to settle the row over Hungary's new constitution.
The European Commission has begun legal action, arguing the laws will damage central bank and judicial independence.
Mr Schulz said Mr Orban should not think he could say one thing in Budapest, and another in Brussels.
The Hungarian prime minister is seeking to reach a deal with the Commission on reworking some parts of the controversial legislation in order to revive stalled international aid talks.
He was also having talks on Tuesday with Commission President Jose Manuel Barroso and European Council President Herman Van Rompuy.
Hungary's economy is heading for recession and investors' loss of confidence has pushed borrowing costs to above 9%.
EU finance ministers on Tuesday endorsed a report that threatens sanctions against Mr Orban's government because of its failure to bring Hungary's budget deficit below the target of 3% of GDP.
'A clever man'
"Prime Minister Orban is an efficient man," Mr Schulz, flanked by Mr Orban, told reporters in English.
"He is an efficient man by taking on board in Brussels the European rhetoric and to blame the same rhetoric when he is in Budapest as a kind of inadmissible approach.
"So the Europeans should take into account that he is a clever man as a party leader but he should take into account that the European leaders are not stupid."
On his Twitter account, the parliamentary speaker said he had told Mr Orban that EU institutions would "remain firm in their stance defending our shared values".
He had, he said, the impression that his talks with the Hungarian prime minister "would lead PM Orban to reflect".
The European Commission - the EU's executive arm - opened legal proceedings against Hungary on 17 January, giving the country a month to respond to its concerns.
Critics say the new central bank law puts the bank's independence at risk by allowing Mr Orban to install a new deputy governor.
There are also fears that Hungary's new data protection authority will come under the influence of Mr Orban's party, Fidesz, and that a plan to make 274 judges retire early will undermine the judiciary's independence by enabling new pro-Fidesz appointees to replace them.
Hungary's total debt has risen to 82% of its output, while its currency, the forint, has fallen to record lows against the euro.
The Orban government wants to reach a deal with the EU and International Monetary Fund on a standby loan worth up to 20bn euros (£16.5bn; $25bn).