Russia row over Nazi massacre site in Rostov-on-Don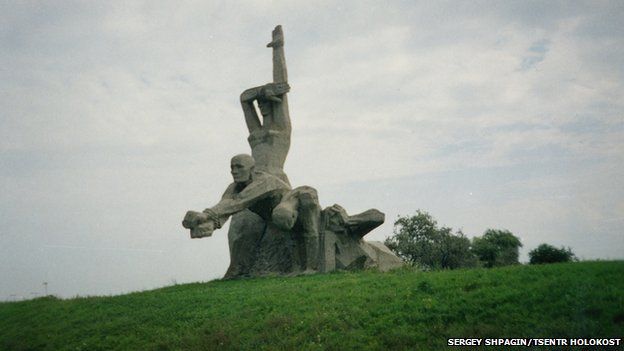 A row has erupted in Russia over the replacement of a Holocaust memorial plaque in the southern city of Rostov-on-Don which named Jews as victims.
In August 1942 Nazi German troops murdered at least 27,000 people at Zmiyevskaya Balka, regarded as the worst Holocaust atrocity in Russia.
More than half the victims were Jews, the Russian Jewish Congress (RJC) says.
A new plaque does not mention Jews, but "peaceful citizens of Rostov-on-Don and Soviet prisoners-of-war".
The RJC, a secular foundation representing Russian Jews, says it will take legal action over the unauthorised decision to replace the former plaque, which spoke of "more than 27,000 Jews" murdered by the Nazis. That plaque had been put up in 2004.
According to the Yad Vashem Holocaust Centre in Israel, 15,000-16,000 Jews were murdered by the Nazis in Rostov-on-Don from August 1942 to February 1943.
In the Soviet Union memorials commemorating victims of Nazi massacres spoke of "Soviet citizens" rather than "Jews".
The former plaque mentioning Jews has now been put in the Zmiyevskaya Balka memorial hall, Rostov's Deputy Culture Minister Valery Gelas told Moscow Echo radio.
He admitted that the rules for historical memorials had been broken, but said the new plaque would remain and "we've done all we can".
He said the wording was in line with historical research and data presented to the Rostov cultural authorities.
RJC president Yuri Kanner said the site was "Russia's Babi Yar" - a reference to the notorious Nazi mass shootings of Jews near Kiev during World War II.
He said it was important to specify exactly who was shot at Zmiyevskaya Balka, pointing out that in law the Nazi slaughter of Jews "is considered a separate crime, with separate prosecutions".
"There could have been refugees from Poland, not necessarily Soviet citizens, it's not a question of citizens," he told Moscow Echo.
He said he did not believe the plaque decision was a case of anti-Semitism, rather that it was a local official's "attempt to do something to please somebody".
A Communist MP on the Russian parliament (Duma) committee for nationalities, Tamara Pletneva, said it was time to "forget our bitterness and live in peace".
"The memorial should commemorate all the war victims... the Soviet Union saved Jews, Russians saved Jews... so why single out Jews? We shouldn't single out any ethnic group."
Related Internet Links
The BBC is not responsible for the content of external sites.