What will be the impact of the EU ban on Iranian oil?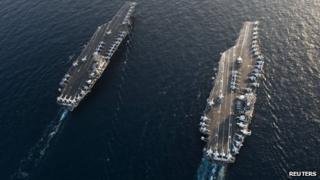 The oil ban agreed by the European Union, which will be phased in over a period of months to try to reduce the impact on some of the weaker European economies, is the most significant toughening of sanctions to date.
The EU is also to bring in restrictions on the Central Bank of Iran and to expand a range of other existing measures intended to constrain Iran's ability to do business abroad.
The new sanctions, coming just as a US naval flotilla accompanied by British and French warships is testing the freedom of passage in the Strait of Hormuz, are inevitably going to ratchet up tensions.
They raise a host of fundamental questions. What impact will the oil ban have? Is there any chance that it will encourage Iran to halt its uranium enrichment programme? And if not, could the sanctions instead bring the various parties closer to some kind of military or naval clash?
Conflicting signals
Europe accounts for about 20% of Iran's oil exports.
Greece is heavily dependent on Iran, from which it buys about one third of its oil.
Italy and Spain each buy a little over 10% of their oil from Tehran. They will all now have to seek supplies elsewhere.
The ban is to be phased in to minimise disruption. And it looks pretty clear that other suppliers like the Saudis - despite Iranian threats - are willing to step up to cover the additional output required.
Nobody of course wants to see an oil crisis that might set prices spiralling.
Iran's customers in Europe are among the weakest economies in the EU. And any significant price rise would only benefit Iran's exports elsewhere.
Of course Iran's major customers are not in Europe but in Asia.
It is here that the fate of this sanctions round will be determined. The US has sought - so far with only limited success - to persuade South Korea and Japan to scale back their imports of Iranian crude.
China, which buys over one fifth of Iran's oil, is clearly the key. It is sending conflicting signals.
On the one hand, it appears to have significantly cut back on orders from Iran and sought to bolster its ties with other Gulf producers.
However, it is by no means clear if this is a desire to warn Iran diplomatically or a manoeuvre intended to strike the hardest bargain once the Iranian oil sector is under pressure.
Survival
So once the new measures are in place, how successful will they be?
Even Western diplomats are uncertain. There is no doubting that the Iranian economy will suffer. But the nuclear programme is a matter of national pride and ultimately national security.
Iran has seen the demise of regimes in Iraq and Libya and noted the survival of that in North Korea - the one so-called "rogue state" that has nuclear weapons.
Iran's rulers may well believe that having at least the potential for a nuclear bomb is something that could secure the country against outside threat.
Seen in this light, one can imagine the Iranian authorities being willing to absorb considerable economic pain to pursue their nuclear research effort.
Of course, it is the Iranian people who will suffer the consequences rather than the Iranian elite itself.
Some in the West hope for a full-fledged change of regime.
But there has always been an ambivalence in Western policy on this subject, and Iran's opposition forces have shown little sign of gaining a second wind in the wake of the upheavals of the "Arab Spring".
Escalation risk
In the short-term at least, tensions are likely to rise.
There is still uncertainty about Israel's options. Will it strike Iran's nuclear facilities in 2012? For now the Americans seem to be trying to persuade the Israelis to give sanctions and diplomatic pressure more time.
But the threat of an Israeli attack has now been replaced by a more imminent potential flashpoint - Iran's threat to close the vital artery of the Strait of Hormuz.
A clash here could so easily escalate into a broader conflict with Iran. And given the febrile state of the region, this could easily turn into a much wider war.
All the talk of potential "air strikes" against Iranian facilities are weasel words. It is war with Iran that some may be contemplating.
And the danger is that war could erupt through misunderstanding as much as by design.
The European Union's move to impose a ban on imports of Iranian oil marks a significant toughening of sanctions against Tehran.
A battery of additional measures expected to be announced will undoubtedly have an impact upon Iran's already ailing economy.