German president voices 'shame' at Nazi Wannsee villa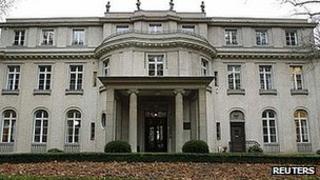 German President Christian Wulff has spoken of Germany's "shame" on a visit to the villa where 70 years ago senior Nazis planned the mass murder of Jews.
"It is important and a national task to keep the memory alive," Mr Wulff said at Wannsee, near Berlin, where the Holocaust was planned in 1942.
He called it "a place of German shame".
He also expressed "anger and shame" that a neo-Nazi cell blamed for 10 murders had operated for a decade before being exposed in November.
The Holocaust was planned at the Wannsee villa by Reinhard Heydrich and 14 other top Nazis. Killings of Jews were already under way and Wannsee turned the policy into genocide. It is now a memorial and educational site.
Mr Wulff said "we cannot be allowed to forget that this - the unbelievable and unimaginable - actually happened".