Putin accuses Echo radio of pouring 'diarrhoea' on him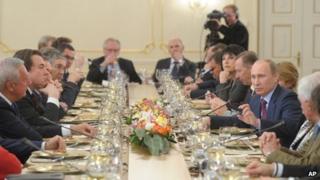 Russian Prime Minister Vladimir Putin has accused a leading liberal radio station of constantly disparaging him and serving foreign interests.
At a regular meeting with editors-in-chief of leading media, he told Moscow Echo radio's Alexei Venediktov: "You pour diarrhoea over me day and night."
He singled out a discussion of Russia's opposition to US missile defence plans in Europe as an example of Echo's bias.
Venediktov later said Mr Putin was entitled to criticise his station.
"Of course, it was very unexpected that the prime minister started to criticise the work of the radio station, which he listens to, as it turns out," he said.
"But listen, if I criticise him, why can't he criticise me?"
Mr Putin is standing for re-election as president in March, having served two terms previously.
Anger over ballot-rigging at parliamentary elections last month developed into the biggest anti-government protests seen in Moscow since Soviet times.
'Such ravings'
About 30 editors attended the meeting at Mr Putin's Novo-Ogaryovo residence near Moscow on Wednesday and a transcript was released by his office.
Mr Putin told Venediktov he rarely listened to Echo but had tuned in unwittingly one day last summer while on a visit to the Black Sea coast to inspect preparations for the 2014 Winter Olympics.
"Missile defence was being discussed," he said.
"Listen, I had never heard such ravings... I was lying there in bed... and thinking: but this isn't news, this is serving the foreign policy interests of one state with regard to another, with regard to Russia."
Mr Putin appeared to mock Echo's editor. He asked him about his voting intentions and suggested that Venediktov was offended by the question after the Echo editor said he had not voted since 1996 - the last Russian presidential election before Mr Putin came to power.
"Yes, I am offended, I am," Venediktov replied. "I'll tell you why later."
"So I don't get offended when you pour diarrhoea over me day and night but you take offence at me - I just say two words and already you're offended," said Mr Putin.
"I was kidding, I'm not offended," Venediktov answered.
"Well, I'm not kidding," the Russian prime minister shot back.
Moscow Echo is one of the few major Russian broadcasters that regularly feature opposition politicians and critics of the Kremlin.
While majority-owned by the Russian state gas monopoly Gazprom, it is seen to enjoy editorial independence.