Germany backs neo-Nazi database after far-right murders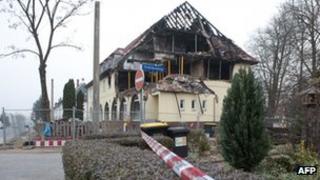 German ministers have approved plans to establish a national register of far-right extremists, after revelations of 10 neo-Nazi murders since 2000.
It is thought there are almost 10,000 neo-Nazis in Germany and the database would include information held by all federal and state authorities.
Police and intelligence have been criticised for failing to detect the gang allegedly behind the murders.
The database proposal still has to be backed by the German parliament.
The gang, known as the Zwickau cell, emerged only when a woman named as Beate Zschaepe blew up her rented flat in the eastern German city. The bodies of two alleged accomplices men were later found in a caravan.
The group has been linked to the murders of nine men - most of them of Turkish origin - and a policewoman, between 2000 and 2007. The cell is also blamed for two bomb attacks.
US model
The register is to include the names of extremists who support neo-Nazism verbally and back or plan extremist violence. It will be modelled on a US database of extremist Islamists set up after the September 11 attacks.
"Today's cabinet decision is the first step in creating quickly the legal basis for the establishment of the federal and state right-wing extremism file," Interior Minister Hans-Peter Friedrich said.
Lack of co-ordination between Germany's 32 police and intelligence agencies has been highlighted as a key reason why the Zwickau cell was not discovered sooner. Each of the country's 16 states has its own police force and intelligence agency.
There has also been criticism of Germany's domestic security agency, the Federal Office for the Protection of the Constitution, whose head Heinz Fromm has acknowledged that they failed to appreciate "the extent of [the gang's] hatred and their determination to take action".