Romania reinstates Raed Arafat after protests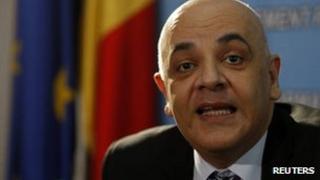 The Romanian government is reinstating a popular health official after days of protests over privatisation plans and austerity measures.
Prime Minister Emil Boc said Raed Arafat, who resigned over plans to partially privatise emergency services, would return to his job.
The deputy health minister would be part of a team drafting a new health bill, Mr Bloc said.
Protests began on Thursday and have taken place across the country.
But correspondents say the cause of the demonstrations has moved beyond health into wider anger at austerity measures and a weak economy.
As night fell on Tuesday, about 200 anti-government demonstrators gathered in the centre of the capital, Bucharest, and yelled slogans against President Traian Basescu, the Associated Press news agency reports.
Dozens of people were injured in clashes over the weekend.
Appeal against violence
The resignation of Raed Arafat, a Palestinian-born doctor who came to Romania in the 1980s and did much to reorganise the emergency services, sparked riots in Bucharest and other Romanian towns.
He stepped down as health ministry undersecretary last Tuesday after a series of public attacks on him by President Basescu.
President Basescu later announced he was scrapping the unpopular reform but failed to soothe the demonstrators' anger.
On Tuesday, Prime Minister Boc announced Dr Arafat would be "restored to his former position of undersecretary of state".
"Mr Arafat remains the same expert and professional in his field... and will be part of the team working on the new healthcare bill," he added.
"Street violence will only impair our chance of creating prosperity more rapidly and put at risk Romania's situation on an international level," he said.
Dr Arafat himself said his return was "not due to pressure from the street", though he thanked his supporters.
It was, he said, due to the government's willingness to engage in dialogue after plans to change the public emergency system were withdrawn.
"Protests started immediately after my resignation in support, but at this moment we are talking about a different situation, a social-political situation that does not necessarily have links to Dr Raed Arafat," he told journalists.
He also called on demonstrators to avoid violence at all costs.