EU opens legal action against Hungary over new laws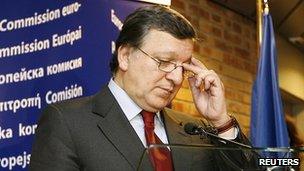 The European Commission - the EU's executive arm - has opened legal proceedings against Hungary over reforms to its central bank, data protection and judiciary.
PM Viktor Orban was given a month to respond to the Commission's concerns.
Critics say the new central bank law puts the bank's independence at risk. It allows Mr Orban to install a new deputy governor.
His conservative Fidesz party has a two-thirds majority in parliament.
The Hungarian government said it would try to "resolve the problematic questions as soon as possible", so as to avoid an escalation of the legal dispute.
The Commission launched an "infringement procedure" against Hungary on Tuesday, the first stage of which is a warning calling for changes to the controversial laws.
"We do not want a shadow of doubt on respect for democratic principles and values to remain over the country any longer," Commission President Jose Manuel Barroso said.
"We hoped the Hungarian authorities would make the changes necessary to respect European law. This has not happened so far, so we have decided to launch the proceedings."
Mr Barroso was speaking after a meeting of the 27 EU commissioners in Strasbourg. He said he would discuss the issues of concern with Mr Orban on 24 January in Brussels.
The Commission can go as far as imposing fines and taking Hungary to the European Court of Justice.
There are fears that Hungary's new data protection authority will come under Fidesz influence and that a plan to make 274 judges retire early will undermine the judiciary's independence by enabling new pro-Fidesz appointees to replace them.
Thousands of Hungarians have demonstrated over what they see as Fidesz authoritarianism. A new media authority set up by Fidesz is also highly controversial.
"I expect the Hungarian authorities to address the Commission's legal concerns swiftly," EU Justice Commissioner Viviane Reding said.
"Only actual changes to the legislation in question, or their immediate suspension, will be able to accommodate the Commission's legal concerns."
Mr Orban says his opponents' criticisms are politically motivated.
He argues that partisan bickering has for too long handicapped Hungarian politics and that the last vestiges of communist influence need to be rooted out.
But the Hungarian government insisted on Tuesday that "we have no dispute with EU institutions with regard to either the basic principles, or the importance of common European values and achievements".
It promised "a basic examination" of the issues raised by the Commission, saying "our goal is to provide a full and relevant answer".
"Like the European Commission, Hungary regards the independence of the national bank, the justice system and the data protection authority as fundamentally important," it said.
Correspondents say a compromise may be found because Hungary is struggling to service its debts and wants to reach a new deal with the EU and International Monetary Fund on a standby loan worth up to 20bn euros (£16.5bn; $25bn).
Hungary's total debt has risen to 82% of its output, while its currency, the forint, has fallen to record lows against the euro.
The EU Economic and Monetary Affairs Commissioner, Olli Rehn, has already warned that Hungary could face a suspension of EU cohesion funds - support for regional projects.
And on Tuesday he said Hungary must first "review all relevant legislation" on the central bank before formal negotiations on the requested EU-IMF assistance could begin.
Nearly a year ago a row between Hungary and the Commission was defused when Mr Orban's government agreed to amend the wording of the new media law, in the sections on balanced reporting, country of origin and media registration.
Related Internet Links
The BBC is not responsible for the content of external sites.