Romanian protests: Your stories
By Lorna Hankin
BBC News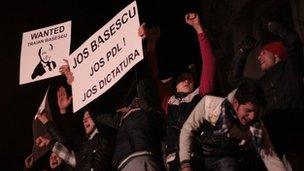 A Romanian health official whose resignation sparked protests across the country has been reinstated.
Since Raed Arafat quit last week in protest against health care reforms, rallies have taken place across the country.
Despite the reinstatement some protesters are calling for President Basescu's resignation and the alliance of opposition parties has called for early elections. Two BBC News website readers in Romania share their different views on recent events.
Protester, Brianna Caradja, in Bucharest
The resignation of the health official Raed Arafat was just a catalyst for unrest - just because he has been reinstated doesn't mean the protests will stop.
People are now standing up for themselves against the government's corruption. There is a crisis here and people understand the need for austerity measures but we have had enough of our country's powerful few.
It took this one man's resignation to bring people out on to the streets but there is more to it now.
I love my country and these protests are a symbol of something new. Things will not change overnight. We understand that but I'm protesting to get the whole government to urge the president to resign and hold new elections.
The majority of people are, and have been, protesting peacefully. There have been lots of arrests - last night [Monday] there were about 100. People are being arrested for no reason - the police go into the crowd and pick out random people and take them away.
Despite days of protests the president has been completely absent. It was only after the third day of unrest that the prime minister came on TV to dismiss current events and that appearance was only brief.
There are people protesting in the main square today. People have jobs so more crowds tend to gather in the evening time.
There are thousands of people demonstrating in over 40 cities. This uprising is bigger than the 1989 Romanian revolution
Anti-protester, Smaranda, from Iasi
The fact that people are still protesting after the prime minister announced Raed Arafat would regain his position and take part in the new health care reform says it all.
Most people have no idea why they are out in the streets. They are unable to say what they are protesting against.
It all started with the health care reform, continued with the resignation of Raed Arafat and led to people shouting "down with Basescu" the president.
I am positive that less than 1% of the demonstrators have read the new health care law project, or even know what it implied.
When you have the opposition leaders saying publicly that they support these demonstrations, you have to wonder who is really behind all of this.
The protests are not necessarily against austerity cuts - if that was the case, why did these people not come out and protest last year when they were first introduced?
According to the latest info, people are protesting because they are unhappy and angry - some are unhappy because they receive a smaller pension, others because they work for 600 Romanian leu (£115; $176) a month and others because they are poor.
People are angry and I understand that, but this is a problem that has been going on for the past 21 years now. These issues are not only caused by the current government!