Thomas McFeely bankruptcy application adjourned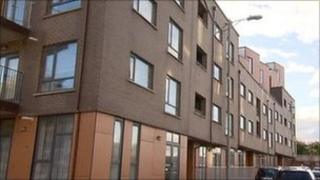 The High Court in Dublin has adjourned an application to make Thomas McFeely, the developer of the Priory Hall apartment complex in Dublin, bankrupt.
He has previously contested bankruptcy proceedings in the Republic.
The application is being brought by Theresa McGuinness from Rush, Dublin, who claims Mr McFeely owes her 300,000 euros.
Mr McFeely was declared a bankrupt by a court in London on Friday.
It is not clear if Ms McGuinness will bring an application in the UK to annul Mr McFeely's bankruptcy there.
She has taken Mr McFeely to court over his failure to pay her damages awarded by the High Court over structural defects to a house.
In October, more than 240 residents of the Priory Hall apartments in Dublin were moved out of their homes.
The action was ordered by a court which heard that safety regulation breaches were so serious, a fire could spread through the whole building in minutes.
Tom McFeely is a former Provisional IRA member and spent 53 days on hunger strike in the Maze prison in 1980.
He went on to become a multi-millionaire property developer and director of Coalport Developments, behind the Priory Hall complex.