Spain Franco-era politician Fraga dies, aged 89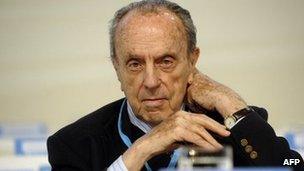 Manuel Fraga Iribarne - the last surviving senior politician from General Franco's era in Spain - has died at his home in Madrid, aged 89.
Mr Fraga died of heart failure, a family member was quoted as saying.
He was information and tourism minister under Gen Franco, but then played a key role in the transition to democracy after the dictator's death in 1975.
Mr Fraga helped to write the country's constitution and founded the party that is today the ruling conservative party.
He dominated politics in the north-western Galicia region until 2005.
He remained in politics up until September 2011, retiring because of health problems.
Speaking at a public event in 2011, Mr Fraga made no apology for being a minister in Gen Franco's cabinet.
"One cannot choose the period of history in which one lives,'' he said.
A hero to many in Galicia, an authoritarian relic to others, he counted the Cuban leader Fidel Castro among his friends.
Mr Fraga married Carmen Estevez in 1948 and they had five children. She died in 1996.