Costa Concordia probe to try to find cause of disaster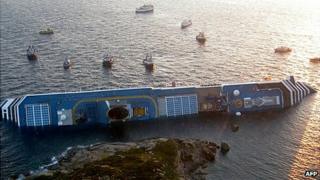 Shipping experts say they are puzzled as to why such a modern and well-equipped vessel should have run aground in well-charted waters.
The £300m ($460m) ship had been travelling in calm seas, along a familiar route.
How it came to deviate from its course by 3-4 nautical miles - and why it capsized so quickly - will be central for investigators trying to establish the cause of the accident.
The investigation will focus on why a modern ship, with the latest safety equipment, travelling on the same route it travels 52 times every year, seemingly veered off course and hit what the cruise company has described as "a big rock".
There are a large number of possibilities ranging from human error, to technical failure, to a combination of the two.
It is possible the crew simply made a mistake and steered off course. They may have been misled by faulty navigation equipment.
Other reports suggest there may have been some kind of power failure.
These big ships rely on their electric generators for steering, power, lighting and so on. But that is why they have back-up systems that kick-in in case of emergencies.
Investigators will already be looking for the cause.
Modern ships have a "black box" system, similar to aircraft, that record voices on the bridge, as well as taking screen shots of the radar position and other data.
That, along with reports from the captain and crew, should eventually give us a clearer picture.
William Gibbons, Chief Executive of the Passenger Shipping Association which represents cruise ship companies in the UK, said the tragedy was very unusual and that the whole industry would learn from it.
"The Italian authorities will be carrying out the investigation. I cannot comment on the timescale... but I'm sure the investigation will start fairly quickly," he said.
Modern cruise ships have doubled in size over the past decade.
They are regulated by the International Maritime Organisation, which determines everything from how far a ship should be able to list and still launch its lifeboats, to how long an evacuation should take.
But those regulations are now being questioned by some in the industry.
It could be anything from six months to a year before the investigation officially reveals what happened to the Costa Concordia.