The downgrading of Europe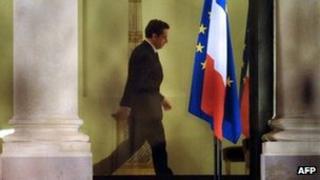 Europe has received a severe judgement from one ratings agency - Standard and Poor. Nine eurozone countries have been downgraded.
France lost its much valued AAA rating. It risks now seeing its borrowing costs rise. It needs to raise 290bn euros ($370bn; £241bn) just to pay off old debts. Almost certainly they will now have to pay more.
France's downgrade will also weaken the firepower of the eurozone's main bail-out fund which depends on the credibility of the key countries. Luxembourg's Prime Minister Jean-Claude Juncker said "we reconfirm the inflexible determination of euro member states to do whatever it takes to overcome the crisis".
The French Finance Minister Francois Baroin said the downgrade was "not a catastrophe" but it could prove damaging to President Sarkozy's election prospects. Already his opponents say the downgrade reflects on the failure of his policies.
The Germans have been supportive to the French. The German finance minister Wolfgang Schauble said the "ratings agencies should not be overestimated".
Some European leaders could not contain their resentment towards the ratings agencies. The economic affairs commissioner Olli Rehn said he "regretted the inconsistent decision" - by taking this decision when the eurozone was taking decisive action on all fronts.
But Standard and Poor say that austerity alone risks becoming self-defeating. For several countries like Portugal, Italy, Spain, the danger is that spending cuts will throw already weak economies into recession. The ratings agency judgement seems based on the fear that some countries risk being drawn into a cycle of decline.
Breakdown of talks
Italy - with debts of 120% of GDP - is now on the same level as Kazakhstan. Portugal has been relegated to junk status.
Eurozone finance ministers responded jointly by saying in a statement they had taken "far-reaching measures" in response to the sovereign debt crisis and were accelerating reforms towards stronger economic union.
It was a bad day for the eurozone made worse by a near breakdown of crucial talks in Greece. The country is negotiating over a second bail-out package. Without it the country will default in March.
A central element in the package is that investors will agree to take losses of up to 50% on their Greek investments. That would reduce Greece's debt mountain by 100bn euros.
But the talks are in difficulty. Once again the eurozone is facing the risk of a Greek default. If that happens the risk is of contagion - that other countries will also default. It remains the case that the eurozone does not have a bail-out fund that could cope with Italy and Spain in difficulty.
Almost certainly there will be now pressure to increase the financial firewalls, to prevent problems in Greece threatening countries like Italy.
That will mean beefing up the permanent bail-out mechanism the European Stability Mechanism that is due to come in later this year.