Turkish Cypriot ex-President Rauf Denktash dies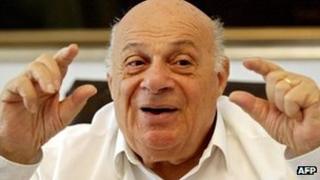 Rauf Denktash, who headed the self-declared Turkish Republic of Northern Cyprus for more than 30 years, has died aged 88, his family says.
Mr Denktash became president of the territory when Cyprus split in 1974 and retired in 2005.
His health has declined considerably in the last decade and he suffered multiple organ failure after being admitted to hospital on 8 January.
He was regarded as a staunch supporter of Turkish Cypriot independence.
Correspondents say he was a controversial figure, regarded as a hero by Turks but hated by Greeks.
He took power in the northern half of the island after a Turkish invasion that followed a Greek-inspired coup.
But his state has only ever been recognised by Turkey.
UN-sponsored talks to reunite the island have not so far borne fruit despite a 2004 reunification plan, and the dispute has been a source of tension between Greece and Turkey for decades.