Norway court orders new psychiatric tests on Breivik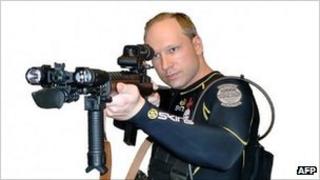 A court in Norway has ordered a new psychiatric evaluation of mass killer Anders Behring Breivik after an earlier report found him legally insane.
Judge Wenche Elizabeth Arntzen said in Oslo that the new evaluation was necessary because of widespread criticism of the initial findings.
On the basis of the earlier report, Breivik would be placed in psychiatric care instead of prison.
His twin attacks on 22 July left 77 people dead and 151 injured.
He set off a bomb in the capital, Oslo, before travelling to the lake island of Utoeya where he shot young activists of the governing Labour Party who were attending a summer camp.
On the same day, he published on the internet a lengthy manifesto in which he outlined his hostility to Muslim immigration and multi-culturalism.
He is due to go on trial on 16 April.
New experts
"Due to the gravity of this case, the criminal responsibility [of Breivik] must be examined again," Judge Arntzen told reporters.
Two new experts, Agnar Aspaas and Terje Toerrisen, were named to evaluate the killer's sanity.
The judge said her decision did not "imply any criticism of the initial experts", and stressed "the need to clarify the case as much as possible".
Observers have asked whether someone who is suffering from a serious mental illness could have carried out such a well-planned attack.
Last week, an expert team of four psychiatrists monitoring Breivik said they believed he was not psychotic, contradicting the findings of the psychiatrists initially appointed by the court.
According to a report submitted by prosecutor Svein Holden, the expert team concluded Breivik was neither psychotic nor schizophrenic, and did not need medication.
Nor did they regard him as being at high risk of committing suicide.
Traumatic attack
While admitting the attacks, Breivik denies criminal guilt, portraying himself as a commander of a militant movement devoted to overthrowing European governments and deporting Muslim immigrants.
However, investigators have found no sign of such a movement and believe Breivik is most likely to have plotted and carried out the attacks on his own.
Breivik has already said through his lawyer that he will not agree to a second assessment, which may complicate the new experts' work, correspondents note.
The 22 July attacks were the worst attack on Norway since World War II and traumatised the country.
One of those badly injured by Breivik, 21-year-old Mohamad Hady Hamed, spent two months in a coma before waking to find an arm and a leg had been amputated.
Speaking earlier this month, he described how he had hidden with several others when Breivik found them and started shooting.
"A few moments passed," he told the Norwegian news agency NTB.
"Then he came back. He must have known I was alive because he kicked me. Then he shot me again in the stomach with his pistol. I was sure I was going to die."
His brother, Ahmed, was also on the island during the attacks but was not injured during the shooting.
"I thought I would never engage in politics again after 22nd July, but now feel the opposite way a few months since," he told NTB.
"We will continue as before. Anders Behring Breivik shall not succeed in his attempts."