Second bailout not needed: Enda Kenny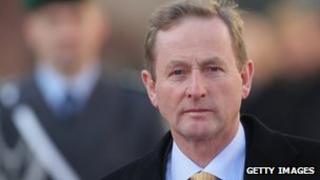 The Republic of Ireland will not require a second bailout to follow the 67.5bn euro package agreed in 2010, Prime Minister Enda Kenny has said.
The taoiseach was speaking in London where he is holding discussions with British Prime Minister David Cameron.
He acknowledged his country faced "very significant economic challenges".
However, Mr Kenny said that the Republic was starting to see "positive results" from the austerity programme introduced due to the financial crisis.
"We are in a programme for two years and are meeting the targets and commitments," he said.
"My genuine belief is that if we can get through the eurozone crisis from a political point of view, we've got a lot of engines that can drive our economy, that will restore confidence and get us moving on.
"In that sense I do not share the view at all in regard to a second bailout being necessary."
Mr Kenny said that public confidence in Europe and the euro would ultimately be determined by delivery on growth and jobs rather than what he described as institutional wrangling or complex legal or technical negotiations.
European leaders agreed to draft a new treaty to tighten budget controls in the eurozone last month and while this represents significant progress, it is not sufficient on its own, Mr Kenny said.
Mr Kenny's warning followed comments by Italian Prime Minister Mario Monti on Wednesday that it was vital markets recognise its economic policy progress soon, given Europe's third-largest economy still face stubbornly high sovereign debt yields.
"Clearly we are not yet at a point where market confidence in the euro has been restored," he added.
"We must ensure that more binding, durable and enforceable fiscal rules go hand-in-hand with funding certainty for countries pursuing sound and sustainable economic policies.
"Beyond that, we absolutely must start creating the conditions and environment for a return to economic growth and job creation across the Union."