Putin 'too busy' for presidential election debates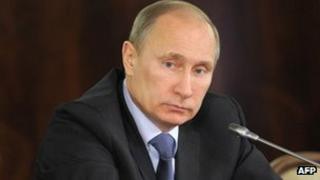 Vladimir Putin will not take part in Russian presidential election debates because of his duties as prime minister, his spokesman has announced.
Taking time off for debates would "undoubtedly impede his ability to duly carry out his duties", Dmitriy Peskov told Russian media.
Despite marathon TV chats and news conferences, the two-time president has never debated with challengers.
His Communist rivals have accused him of seeking an unfair advantage.
The party's leader, Gennady Zyuganov, said on Wednesday he should take leave as prime minister for the election period and engage in debates.
Mr Putin served two terms as president, from 2000 to 2008, but was constitutionally barred from standing for a third consecutive term.
Having served a single term as prime minister, he is standing again for the presidency on 4 March.
In his manifesto, posted on his campaign website on Thursday, Mr Putin vows to end police abuses in Russia and to make government accountable.
'Illegal' campaigning
Speaking to Interfax news agency, Mr Putin's spokesman said the prime minister would use the airtime allocated to him under electoral laws to convey his electoral programme to voters.
Furthermore, Mr Putin could nominate representatives to take part in debates for him, Mr Peskov added.
Mr Zyuganov, who has fought and lost presidential elections since the Yeltsin era and came a distant second against Dmitry Medvedev in 2008, said he wished to debate issues such as the economy, manufacturing, agriculture, science and education.
"Not only must [Vladimir Putin] go on leave, but also officially agree to take part in open political debates," he said in remarks broadcast on Russian news channel Rossiya 24.
One of Mr Zyuganov's MPs, Sergei Obukhov, accused Mr Putin of hogging TV coverage.
"In the last 20 days, Putin dominated the television screens 70 to 100%," he said.
"We believe this makes the election process illegal, as does Putin's continuing status of presidential candidate and prime minister."
'Repressive tendency'
Mr Putin's official duties as prime minister this week included chairing a meeting of Russian angling societies in Moscow on Wednesday.
In his manifesto, Mr Putin talks of "re-thinking the whole system of public security" and "needing to stop the extremely repressive tendency" of Russia's law enforcement agencies.
"This situation is deforming our society and is making it morally unhealthy," writes Mr Putin, a former secret police chief.
"The actions of the security forces should be aimed at protecting and supporting legal business - not fighting it."
On international affairs, Mr Putin promises to create "strong Russia in a complex world".