German prosecutor shot dead in Bavarian court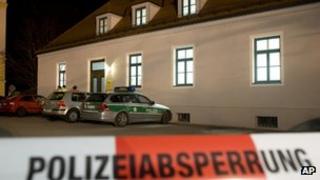 A state prosecutor has been fatally shot in a courtroom in the southern German state of Bavaria.
The gunman, a 54-year-old defendant in a case at Dachau district court, opened fire first at the judge before shooting the prosecutor, reports say.
The prosecutor was hit three times, in the arm, stomach and shoulder, and taken to hospital where he later died.
The defendant was overpowered and taken into custody. It is believed he was accused of improper payment of wages.
Unconfirmed reports said the victim was 31 and from Munich and had been employed by the Bavarian prosecutor's office for only a year.
The man had allegedly failed to pay tens of thousands of euros of national insurance contributions.
Had he been convicted he would have faced a fine or a possible five-year jail term.
Security at German courts has been tightened in recent years because of several earlier attacks on judges and prosecutors. But German media said it was clear that no rigorous search of the defendant had been carried out.
In April 2009, a man killed a woman relative in a courtroom in Landshut, north-east of Munich, over an inheritance dispute.
A few months later an Egyptian woman was fatally stabbed in the eastern city of Dresden.