Italy wrestles with Berlusconi legacy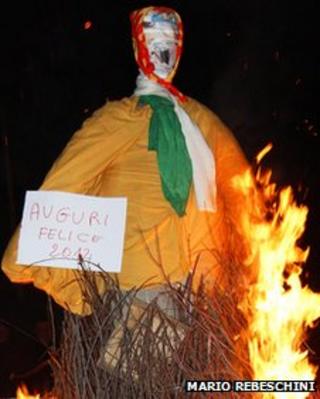 On New Year's Eve, Italians traditionally see in the new year by burning the vecchione (old man) - an effigy personifying the outgoing year.
When inhabitants of the little town of Ozzano dell'Emilia, just outside the northern Italian city of Bologna, decided to give their effigy the face of Silvio Berlusconi, they did not imagine the reaction it would provoke.
"It wasn't meant to be offensive," says events manager Aldo Gori.
"The spirit was ironic and just a bit of fun, as is tradition here."
But the Berlusconi faithful did not see the funny side. Local members of his People of Freedom party (PDL) made an official police complaint and demanded a public inquiry.
Although Mr Gori obscured Berlusconi's face before the effigy was burnt, the complaint has not been dropped and he is currently seeking legal advice.
"On the night of 31 December we always burn what is old and belongs to the past and, with that, everything negative connected with the year that's just ended," explains Mayor of Ozzano Loretta Masotti, defending Aldo Gori.
"Berlusconi's politics certainly represent one of these things."
A storm in a teacup maybe, but an illustration that, while there are those who could not wait to "burn the memory" of the former prime minister, he still has his diehard supporters.
"There are still many Italians who believe Berlusconi is a good guy and has protected their interests, while the left was jeopardising them," says Gianfranco Pasquino, professor of political science at the Bologna Centre of The Johns Hopkins University.
He says the media tycoon built his popularity on the fact that he was a "non-politician and a self-made man" and that the foreign media overestimate the importance of his personal scandals on Italian public opinion.
"Forty per cent of Italians say they couldn't care less and that calling him a dirty old man doesn't solve their political problems," he says.
He argues that even the former prime minister's biggest fans cannot deny that he was unable to solve Italy's problems and failed to deliver any of his promises.
"There is no doubt that Berlusconi failed to reform the constitution, tame the power of the judges (the red robes as he calls them), lower taxes and produce economic growth."
And the widespread relief and euphoria when Mr Berlusconi resigned in November last year demonstrates that the majority of Italians are overjoyed to see the back of him in 2012.
Beppe Severgnini is a journalist and the author of Mamma Mia! Berlusconi's Italy Explained for Posterity and Friends Abroad.
"Throughout 2011, Italy was in a hysterical, nervous state of tension. It was like being on a rollercoaster you feel relieved to get off," he says.
As the Italian journalist with the most Twitter followers and a hugely popular online forum, he observes how people really need a break from the nation's constant internal political quarrels.
"There is a sense of this all over Italy. Even his supporters feel the same way," he says.
"They may not cheer for the new government but their silence says it all."
Former Berlusconi supporter Filippo Linguanti, an engineer from central Italy, said he had assumed that having a businessman in power would have been an advantage.
"But he turned out to be a disappointment to me," he says.
Mr Linguanti says he still plans to vote for the PDL, for lack of a better alternative, but would prefer someone else to take over the leadership.
"For now I'm pleased with Mario Monti because he's doing what Berlusconi's government should have done but didn't."
Honeymoon period
Like many Italians he hopes the new prime minister will be able to save Italy from a fate similar to that of Greece.
Accompanying Berlusconi's 2008 election campaign was a song and music video most Italians find hard to forget: Meno male che Silvio c'e (Thank Goodness for Silvio). So in 2012, have they changed the lyrics to Meno male che Mario c'e?
"Italians are giving Mario Monti a honeymoon period, for sure," says Beppe Severgnini.
"Even he says he is surprised that - in spite of his austerity measures, what he's done to pensions, and so on - he still has an approval rate of over 50%.
"I think it's like gratitude towards the doctor in the emergency room. You're not happy with the injections and medication but you know you need them to get better."
But Prof Pasquino says it is too early to say whether Berlusconi's political career is over.
"As the Italian playwright, Ennio Flaiano, said: Italians always run to the aid of the winner. Italians still have positive expectations of Monti, but he needs to retain majority support in parliament.
"He will have to turn Italy's situation around in the next few months. If he makes significant mistakes and fails to improve our situation, Berlusconi could say 'You see? It wasn't my fault, it was the fault of the international financial crisis, but I'm here and ready to take back control'."
Prof Pasquino says that as the leader of his own party, Silvio Berlusconi still has some influence, but is simply too old to run for office in 2013, when at 76, "he is unlikely to have the stamina to ride a long electoral campaign".
"But, being a showman, he will try to show us that he's still capable of making a political impact and will certainly play an active and decisive role in the campaign to get his party back into power," he says.
Prof Pasquino is convinced that if Berlusconi's party gets in again in 2013, he will do his best to return to power, this time as president.
"The Italian word is vanitoso. He's a vain man. He likes to be photographed, quoted and loved, as everybody knows. The President of the Republic is the father of the country and he wants to be that. It would also secure him a place in the history books. He wants to be remembered."
Beppe Severgnini believes that is impossible.
"It is more likely he will end up as goalkeeper for AC Milan than President of the Republic," he says.
"The president has to be a unifying, respected figure. Actually, if Mario Monti does a good job from now until the elections in 2013, I think it could be his reward."