French court rejects Renault heirs' challenge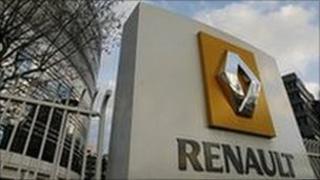 A French court has rejected a bid by heirs of the founder of Renault for compensation for the loss of the car firm, nationalised in 1945.
The French state took control of Louis Renault's firm after World War II, when, under German control, it was used to make equipment for German forces.
The company is now one of France's largest car-makers and the state remains the single biggest shareholder.
The Paris court said it was not competent to rule on the matter.
'Rights violation'
The seven grandchildren of Louis Renault, who died in jail before he could be tried for alleged collaboration with the Nazis, said they would appeal against the court's decision.
They were able to take the French state to court after a new judicial procedure was introduced, allowing plaintiffs to challenge the constitutionality of legislation.
Their lawyer, Thierry Levy, had argued that the firm's nationalisation was a "violation of fundamental legal and property rights".
Renault's grandchildren, who previously tried to obtain redress in 1959, say their grandfather was never brought to trial over the allegations against him.
They also say that there has been no other case of a firm being nationalised without a ruling or compensation.
But a lawyer for a union that as a civil party is asking for the request to be quashed had asked the court to reject what he said was a "revisionist" move.
"I am stunned by the audacity of the Renault heirs," Jean-Paul Teissonniere said.
He added that during the war "a very large majority of Renault's production went to the enemy," adding that the company did not assist the French Resistance or did it "ask its workers to sabotage" production.
Mr Levy said the accusation that the family were revisionist was "outrageous".
The French state remains the largest shareholder in Renault, which was founded in 1898, with a 15% stake.