Russian author Boris Akunin reveals female pseudonym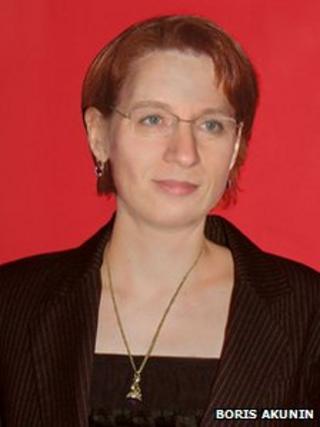 Boris Akunin, the Russian author of the Erast Fandorin detective series, has revealed he wrote several books under the female pseudonym Anna Borisova.
Akunin said on his blog he had begun using assumed names - he also had a male pseudonym - to escape being stereotyped as a crime writer.
"Dull the author who's never fancied being an authoress," he wrote.
Three novels were published under the Borisova name, which Akunin described as light reading.
The Georgian-born writer is best known internationally for his historic detective novels featuring Fandorin, a fictional 19th-Century Russian detective.
He himself writes under a pen name, his real name being Grigory Chkhartishvili.
On Wednesday, he went on his blog to confirm rumours long circulating that Anna Borisova and Boris Akunin were one and the same writer, as was "Anatoly Brusnikin".
He said he had been using pseudonyms for four and a half years, with the agreement of his publisher.
He had even invented a photograph of Anna Borisova, created by digitally mixing his own image with that of his wife Erika.
While several female authors such as George Eliot have used male pen names for historical reasons, cases of mainstream male novelists posing as women are much rarer.
'Through a woman's eyes'
"The reader, like the customer, is always right," Akunin said on his blog.
"Therefore... I decided that if I wanted to write something altogether different, I'd give myself another name. Not to disappoint anyone."
As Anna Borisova, he wrote two short novels, There and Kreativshchik, and one long one, The Seasons.
The Seasons is set in a French retirement home for the wealthy and addresses mortality, among other themes.
Explaining why he had chosen to write under both male and female pseudonyms, Akunin said he had wanted to "imagine what it means to be a woman and to look at the world through a woman's eyes".
"I imagined an educated lady who has reached the age of freedom when her children are already grown, her mind is mature, her character is formed.
"She has a wealthy husband... [who] writes partly out of boredom... and partly out of wishing to share with the world the thoughts and feelings that have welled up in her over time."
Asked by the BBC News website how she rated the novels as a woman, Akunin's wife said: "I like them, especially [The Seasons]."
Asked if writing under a female pen name had affected Akunin, Erika added: "Well, when he was writing as Anna Borisova, nothing feminine came out in him."
Noting that all of his Borisova novels put together had sold about 200,000 copies - a fraction of what one Fandorin book might sell - Akunin said of his alter ego: "She was a great lady but everything comes to an end and the time has come to part company."
New covers for the three novels have now been designed, incorporating Akunin's own name.