Polish suicide-bid prosecutor 'faced death threats'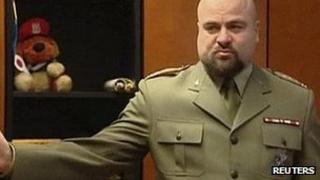 A Polish military prosecutor who survived shooting himself at the end of a news conference says he had faced threats to his life.
Col Mikolaj Przybyl said there was a contract out to kill him and that he had been accused of wrongdoing.
Col Przybyl had been defending a military inquiry into media leaks related to the air crash that killed the Polish president in 2010.
He turned his gun on himself after asking reporters to leave the room.
"I wanted to commit suicide but I aimed wrong, the shot came too soon," Col Przybyl told state news agency PAP in a telephone call from his hospital bed.
"The shot went through the cheek, not through the head because I was in a hurry," he said.
'Bounty'
He told the agency that threats had been made against him in connection with past investigations, although he did not specify who he thought was behind the threats.
"I could accept that they destroyed my car, loosened my wheels so I would kill myself. There was a million zloty ($300,000; £194,000) bounty on my head. They killed my dog," he said.
"I could not deal with the attacks related with accusations of illegal actions."
At the news conference in his office in Poznan, western Poland, Col Przybyl had denied that prosecutors had eavesdropped on journalists investigating the air crash.
He asked reporters to leave so that he could take "a break".
He told PAP that he had stood by a window when he pulled the trigger to prevent a ricochet hurting others.
Upon hearing a loud thud, reporters rushed back into the room to find Col Przybyl on the floor in a pool of blood.
Doctors have said he could return home as early as Thursday.
The plane taking then President Lech Kaczynski's delegation to a memorial service crashed in thick fog in Smolensk, western Russia, in April 2010.
Mr Kaczynski died along with his wife and 94 senior officials. Investigators blamed pilot error.