Turkish ex-president Kenan Evren faces coup charge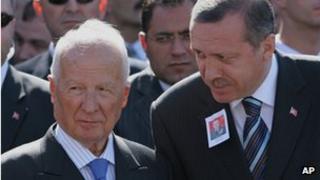 A Turkish court has accepted indictments against the country's seventh president, Kenan Evren, for his role in the 1980 army coup.
Prosecutors are seeking life terms for Gen Evren, 94, and another retired general, Tahsin Sahinkaya, 86, the only survivors among the five coup leaders.
Turkish PM Recep Tayyip Erdogan said on Tuesday the time for coups was over.
Last Friday, the former head of Turkey's armed forces was remanded in custody over an alleged 2003 plot.
Gen Ilker Basbug denies involvement in the so-called Ergenekon network which is alleged to have tried to overthrow Mr Erdogan's government.
Bloodiest coup
The indictment of the surviving leaders of the 12 September 1980 coup is seen as a result of changes to Turkey's 1982 constitution, under which the leaders of the army had been given effective immunity from prosecution.
Gen Evren said in 2010 that he would rather commit suicide than go on trial, arguing that the army's action had saved Turkey from rising street violence involving left-wing and right-wing groups.
After the coup, 600,000 people were detained, many were tortured and 50 executed by hanging, although hundreds more were told they would face the death penalty.
It was the last and bloodiest of Turkey's military coups: the others took place in 1960 and 1971, although the military also forced out a coalition government in 1997.
While the military's status in Turkey has declined since Mr Erdogan came to power in 2002, concern has been expressed about the Ergenekon investigation which has targeted journalists, lawyers and politicians as well as military figures.
Opposition leader Kemal Kilicdaroglu is being investigated after describing Silivri jail near Istanbul, where hundreds of suspects in the Ergenekon inquiry are being held, as a "concentration camp".