Eric Cantona 'targets French presidential race'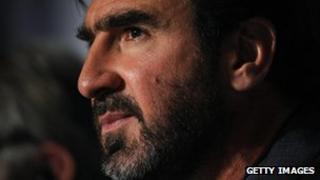 Ex-Manchester United football star and film actor Eric Cantona now appears to have turned his hand to politics.
He has written to France's elected mayors seeking 500 signatures needed to stand for the 2012 presidential vote, according to Liberation newspaper.
His goal is not the Elysee Palace, he says, but rather to highlight the plight of poor quality housing.
In his letter he calls himself as an "engaged citizen", speaking up for millions of forgotten families.
Referring to both his high level of sporting achievement and his "artistic activities", Eric Cantona, 45, told the paper he could have become involved in a variety of causes: "If I've chosen housing, it's because I think it's essential and affects 10 million people."
He added that it was important to act at a time in which he would be heard and said he was campaigning on behalf of the housing charity, the Abbe-Pierre Foundation (FAP), of which he is a patron.
FAP launched a campaign for better housing in September, attracting 100,000 signatures.
Dubbed "King Eric" by Manchester United supporters in the 1990s, he had already established a reputation as something of a thinker even before he left Old Trafford.
A conviction for assaulting a fan led to perhaps his most renowned pronouncement in 1995: "When the seagulls follow the trawler, it is because they think sardines will be thrown into the sea."
He retired from the game in 1997 and went on to star in the Ken Loach film "Looking for Eric".
In 2010, he publicly called on French people to withdraw their cash from banks as a punishment for the financial crisis. It then emerged that his actor wife had appeared in a bank's TV commercial.
His latest foray into the world of politics, he says, is driven by a sense of responsibility at a time of economic uncertainty. But his initiative has received a lukewarm political response.
Michel Sapin, a spokesman for Socialist presidential candidate Francois Hollande, estimated that 150,000 social housing units had to be built per year to get on top of the problem but he questioned Eric Cantona's methods.
"If every time you have a great cause to defend you have to become a presidential candidate, you risk diverting the role and the institution," he said.
Junior housing minister Benoist Apparu acknowledged the need for improved housing but said the number of families affected was closer to 3.5 million.