Chechnya rebel clash with Russian troops 'kills seven'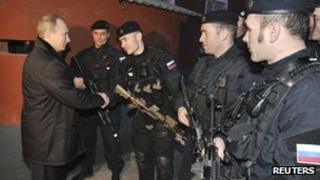 Four Russian security personnel and at least three Islamist militants have been killed in clashes in Chechnya, says Russia's Interior Ministry.
The fighting happened as Russian forces confronted the rebels at a camp in heavily forested mountains, officials say.
The militants had reportedly laid trip wires and mines around their hideout, which were buried under deep snow.
Chechnya's long-running insurgency has recently spread to neighbouring areas.
The fighting began on Sunday when a Russian security patrol came across the militants in the south of Chechnya, officials say.
"During the pursuit of a bandit group in wooded mountainous terrain in Chechnya's Vedenskiy District, three bandits were destroyed," an unnamed security source told Russia's Interfax news agency.
"Preliminary indications are that the militants were able to fortify their so-called camp and set up a large number of trip wire mines around it," the source told Interfax.
"It was these mines that killed the law-enforcers."
Militant hideout
In addition to those who died, 16 other Russian servicemen were injured, a Russian Interior Ministry statement said.
Chechen President Ramzan Kadyrov said on Sunday that the Russian operation was close to achieving its objectives.
"We have practically found their den and we are now doing everything we can to destroy them in their den," his government's website quoted him as saying.
The Russian authorities have been fighting insurgents in the North Caucasus region since the collapse of the Soviet Union in 1991.
Chechen separatists and Russian forces waged two wars in the 1990s.
Since the second of those wars ended in 2000, the insurgents have increasingly been Islamists and the unrest has spread to other Russian republics in the region, especially Dagestan.