Austria hit by heavy snow, major railway line shut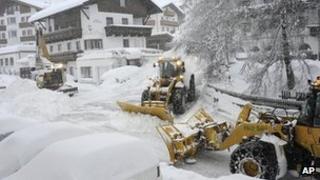 Heavier than usual snowfall and high winds have caused chaos on roads and railways in many areas of Austria.
Part of a major railway route has been shut down in the west of the country, and some villages and tourist resorts have been cut off.
Up to 1.2 metres (4ft) of fresh snow has been recorded in some areas since Thursday.
The authorities say the probability of avalanches is extremely high and widespread.
The railway line that connects Oetzal, close to Innsbruck in Tyrol, and Bludenz in the far west of the country has been shut and is expected to remain closed until Sunday afternoon, says the BBC's Bethany Bell in Vienna.
Nearly 2,000 homes have been without power.
On Friday, around 15,000 tourists and locals were snowed in at ski resorts on the Arlberg mountain.
The roads there are now open again, but others in the region remain shut.
Because of the high risk of avalanches, the Austrian army has put several helicopters on high alert.
More heavy snow is predicted over the next few days.