Breast implant removal advised by Germany and Czech Rep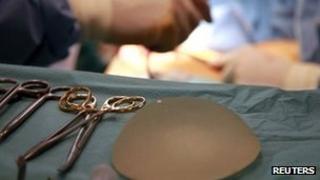 Health officials in Germany and the Czech Republic have advised women who had potentially defective breast implants to have them removed.
The implants, made by French company PIP, contain industrial grade silicone, putting them at great risk of rupturing inside the body.
France and Venezuela have already said they should be taken out, while the UK has said there is no immediate need.
Some 300,000 of the implants were sold in 65 countries over the last 12 years.
They were banned in France in 2010 after they were found to contain low-grade industrial silicone gel - manufactured for use in mattresses - in place of specialist medical materials.
'Nothing' to say
Germany's Federal Office for Pharmaceuticals and Medical Devices said investigations had shown that even implants which did not show signs of rupturing could pose a health risk.
"The office thus recommends that the implants in question be removed as a precautionary measure," said president Walter Schwerdtfeger.
He said the urgency of carrying out the procedure depended mainly on how long each patient had had the implants.
The health ministry in the Czech Republic, where some 2,000 people are thought to have had the implants, said it had so far not detected any "acute risk of serious health problems" but it advised that patients had them removed or checked annually.
British health officials have said there is no need for the "routine removal" of PIP implants, but the government has said that where a woman had the implants under the National Health Service (NHS), it would cover the cost of the removal.
Some 5% of the 40,000 women in the UK with the implants had the operation for free on the NHS, for medical reasons.
"They are the NHS's patients and we will take responsibility for ensuring that they get access to advice, to scans and to the removal of the implant if that is the decision they come to," said Health Secretary Andrew Lansley.
"But I do want to make it very clear for women that we're not recommending the removal of these implants."
Mr Lansley said private clinics had "a moral duty to offer the same service to their patients that we will offer to NHS patients - free information, consultations, scans and removal if necessary".
Concerns about the safety of the firm's implants were raised when French surgeons noticed they ruptured more easily than others and the case it now being re-examined by a magistrate.
It has emerged that in a police interview in 2010, PIP's owner Jean-Claude Mas admitted the company had deceived European safety inspectors "without a problem" for 13 years by ordering employees to hide the unauthorised silicone when they visited its factory.
Mr Mas said he had "nothing" to say to the affected women, and that they were "filing their complaints to make money".