German press scolds President Wulff over voicemail row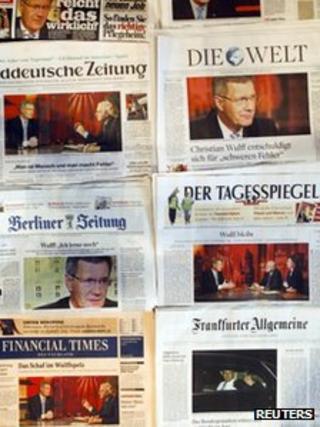 German newspapers accuse President Christian Wulff of using "deeply troubling" tactics in a high-profile row about a controversial home loan he received.
In a voicemail message to the editor-in-chief of the best-selling daily Bild he allegedly tried to block publication of a story about his financial affairs.
In a televised interview on Wednesday Mr Wulff said he had merely wanted to delay publication. He denied any wrongdoing in connection with the loan he had received from a wealthy businessman's wife.
'Deeply troubling'
A commentary by Frank Schirrmacher on the Frankfurter Allgemeine Zeitung website on Thursday says the president's TV interview "was so fatal because a false premise makes everything wrong".
"The president used precious concepts such as human rights, friendship and press freedom in his defence, which people are bound to find deeply troubling," it adds.
Sueddeutsche Zeitung says Mr Wulff's TV interview "raises new questions". "Wulff divides the nation like probably no other head of state before him. That is regrettable for Germany - and dangerous for Chancellor Merkel," says a commentary by Nico Fried on the paper's website.
Other papers concur. An online commentary by Thomas Schmoll in Financial Times Deutschland says the affair shows that "the chancellor has chosen the wrong man" for the office of president.
In online editorials Berliner Zeitung warns that Mr Wulff has "lost his credibility" and that electing the president should henceforth "not be a matter for parties but for citizens".
No 'power struggle'
Bild itself denies suggestions that the affair has become a trial of strength between it and the president.
Those who want to "blow up the case and the problems of the president to the proportions of a 'power struggle' between the head of state and the biggest newspaper in the country have got it all wrong", editor-in-chief Kai Diekmann said in a commentary in the paper's web edition late on Thursday.
The media "ask questions, reveal mistakes and expose contradictions, they do not take decisions," Mr Diekmann adds.
However, an online report published by the daily Die Welt on Friday quotes a poll as suggesting that, while Mr Wulff's interview failed to impress Germans, most are prepared to "give him a second chance".
BBC Monitoring selects and translates news from radio, television, press, news agencies and the internet from 150 countries in more than 70 languages. It is based in Caversham, UK, and has several bureaux abroad.