Financial crisis grips Bosnia heritage sites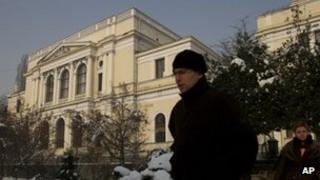 Reading rooms in Bosnia-Hercegovina's National Library have opened without heating as a funding crisis grips the divided country's heritage sites.
The institution in the capital Sarajevo is unable to meet its utility bills or pay its staff, deputy director Bedita Islamovic told the BBC News website.
Heating was switched off as the temperature hovered just above zero.
Other cultural institutions have closed completely as a result of disagreement over who should pay for their upkeep.
The Dayton peace agreement which ended the 1992-95 war split the country into two parts, linked by a weak central government.
The central government has no ministry of culture and no obligation to provide permanent funding for sites regarded as part of Bosnia-Hercegovina's national heritage.
Bosnian Serbs largely oppose giving the central government control over the sites, with their politicians arguing that each of the country's ethnic groups should care for its own heritage.
So deep are the continuing divisions that it has taken the sides 14 months to agree on the make-up of a new central government, after elections in October 2010.
This week, the Historical Museum closed and the National Gallery shut its doors early in the autumn.
The National Museum expects to close piece by piece in coming weeks as its power supply is cut off due to unpaid bills, director Adnan Busuladzic told the Associated Press news agency.
"By no will of our own, we have found ourselves in the middle of a political battle and have become a political problem," he said.
Among other things, the National Museum's collection includes the Sarajevo Haggadah, an illuminated manuscript brought to Bosnia by a Jewish family expelled from Spain during the Inquisition and saved from Hitler's forces during World War II.
The culture minister of the country's Bosniak-Croat Federation, Salmir Kaplan, reportedly pledged his government would provide funding to cover the unpaid utility bills of the National Museum.
However, he admitted this was just a temporary solution, AP says.
The Bosnian Serb Republic (Republika Srpska) has a culture ministry of its own.