Husband of Ukraine's jailed Tymoshenko wins Czech asylum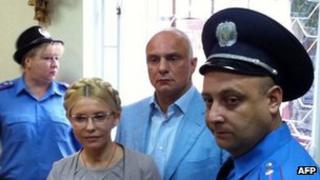 The husband of jailed Ukrainian former Prime Minister Yulia Tymoshenko has been granted political asylum in the Czech Republic.
The news was announced hours after media reports that Oleksander Tymoshenko had requested asylum at the end of last year.
Mr Tymoshenko's wife was jailed for seven years in October for abuse of office at a controversial trial.
The government has said there is no reason for Ukrainians to seek asylum.
The press service of the foreign ministry in Kiev told Interfax news agency: "The principles of the supremacy of the law and respect for basic human rights and freedoms are observed in Ukraine."
'Pressure on wife'
Mr Tymoshenko, who has Czech business interests, stood by his wife in court.
The Czech interior ministry confirmed his request for asylum had been granted on Friday.
In Ukraine, Yulia Tymoshenko's political bloc released a statement saying pressure had been put on the jailed politician through her family.
Last year, the country granted asylum to Bohdan Danylyshyn, a former economy minister in Tymoshenko's cabinet.
A row ensued in which Ukraine expelled two Czech diplomats for alleged espionage.
Mr Tymoshenko has a stake in the Czech company International Industrial Projects.
His wife was convicted of abuse of power over a gas deal she signed with Russia in 2009.
She accused President Viktor Yanukovych, her political rival since the 2004 Orange Revolution, of orchestrating the case against her.
The EU and others voiced concern that her trial might have been politically motivated.
Tymoshenko was recently moved from custody in the capital Kiev to a prison in the eastern city of Kharkiv.