German President Christian Wulff's home loan row erupts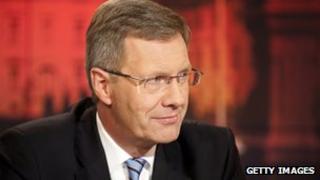 German President Christian Wulff has rejected a request to allow publication of a voicemail at the heart of a home loan scandal.
The Bild newspaper sought his consent after contradicting an account given by Mr Wulff in a television interview.
The president insisted he did not try to block a story about his financial dealings when he left the message on Bild chief editor Kai Diekmann's phone.
The paper said it was surprised by his words and wanted to clear up the issue.
At the centre of the row is an angry message left for Mr Diekmann on 12 December when Mr Wulff was on an official visit to the Gulf.
The president said in his TV interview on Wednesday that, although the voicemail was a serious mistake, it was an attempt to delay publication until he returned the next day.
Bild went ahead and published the story that he had received a low interest 500,000 euro loan (£417,000; $649,000) from the wife of a wealthy businessman in October 2008, while prime minister of Lower Saxony state.
Mr Wulff was later asked in Lower Saxony's parliament if he had had business relations with the businessman, Egon Geerkens, and said he had not, making no mention of his dealings with Mr Geerkens's wife.
His appearance in a recorded TV interview was an attempt to put an end to criticism about the home loan and, more significantly, his angry threat of legal action against the newspaper.
He rejected calls for his resignation, saying he planned to serve his five-year term with the record of a good and successful president.
But in a letter to Mr Wulff on Thursday, Kai Diekmann, Bild's chief editor made it clear that the matter was not closed: "We noted with surprise your statement on television that your call to my mailbox was not about stopping the report about your home loan but about delaying it for a day."
The president has now fired back with a letter of his own, rejecting Mr Diekmann's request to clear up misunderstandings about the content of the message.
"The words spoken in an exceptionally emotional situation were meant exclusively for you and for no-one else," he wrote.
Mr Wulff says he considers that a later apology he had given the Bild editor was sufficient. "The matter was settled between us with that, and that in my view is where it should rest."
The events in question, he says, dated back years and he could see no obvious reason why Bild could not wait another day to publish its story.