Storms, flooding prompt Dutch evacuations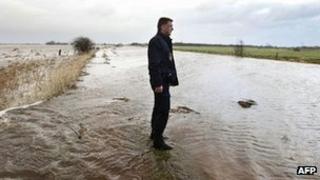 Dutch villagers have been asked to leave their homes and farms because strong winds and heavy rain have led to fears of coastal flooding.
Some farmers in Tolbert in the northern province of Groningen refused to leave their cattle, despite reports that an inland dyke was at risk of breaking.
There are flood warnings for the Dutch west coast. Gales have also battered the UK, Belgium, France and Germany.
Winds of up to 178kmh (111mph) were recorded in northern England.
In Germany, winds of 133kmh were recorded as high water levels on the River Rhine raised concern in Cologne and weather forecasters warned of heavy snow over higher ground.
The Oeresund bridge between Sweden and Denmark was closed for part of Thursday morning.
In Belgium, forecasters issued a code orange alert for the whole country, indicating the risk of severe weather and damage.
Northern provinces in The Netherlands have had a month's average rainfall in recent days and the strong winds have hampered attempts to drain areas of reclaimed land.
Water companies say they have pumped millions of gallons into the sea.
Eleven ships were prevented from docking at the Rotterdam container terminal because of high water levels.
In England, the QEII bridge linking Essex and Kent had to be closed and dozens of trees blocked roads in Suffolk.
High winds were also recorded in northern France, bringing down power lines and leaving thousands of people without electricity.
French forecasters warned of a violent winter storm as far south as Corsica, in the Mediterranean.